Shudu Lake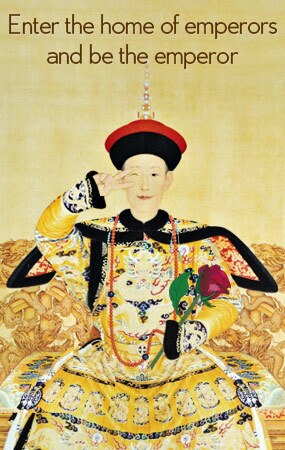 Shuoduhai Lake, or Shudu Lake for short, is a large lake (15 square kilometers) that lies 40 odd kilometers northeast of the city of Shangri-la (Zhongdian), Diqing Prefecture, in the northwest corner of Yunnan Province, at an altitude of about 3700 meters above sea level. Shudu Lake is in fact the largest lake in Diqing Prefecture. The water of Shudu Lake is so clear that one can easily discern the golden lateral line that runs along the sides of the resident carp species, the Schizothoracinae Mountain carp, as they slither across the bottom of the lake.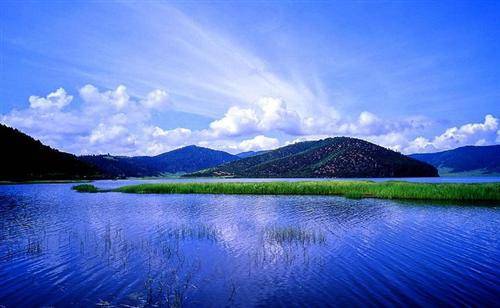 Shudu Lake in Shangri-la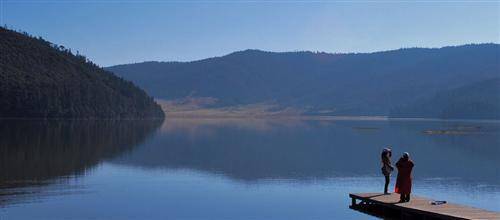 The prairie that surrounds Shudu Lake is a fertile pasture grounds famous throughout Diqing Prefecture. Every spring and summer local herdsmen bring their large flocks of yak and goats to graze beside the lake. Beyond the ring of prairie lies a belt of virgin forest.  

"Shu" means cheese in Tibetan; "du", stone. An ancient legend has it that an eminent monk who roamed from place to place arrived at the lake one day and the herdsmen shared their food, a local cheese, with the monk. The eminent monk was happy to observe that the sturdy cheese of the bountiful pastureland around the lake was as solid as stone, so he said the following prayer regarding the good cheese that the local herdsman of the lake region had shared with him: "May the good cheese of this region remain as firm as stone forever". From then on the name of Shudu Tso (Shudu Lake) came into being.
Location:

Shuduhai Lake is located some 40 odd kilometers northeast of the city of Shangri-la (Zhongdian), and about 10 kilometers or so from Bitahai Lake.
How to Get There?


There are only two options: Travel by charter bus, or by rented car. The former will cost you between 10-40 yuan, depending on where you board the charter bus. If a rented car is your preference, rest assured that there is a good county road that connects Shudu Lake with Shangri-la.
Ticket Price:

RMB15
For an authentic travel experience, contact one of our travel advisors. Our local experts are always ready to create a hassle-free tour for you.