Zhangye Danxia Landform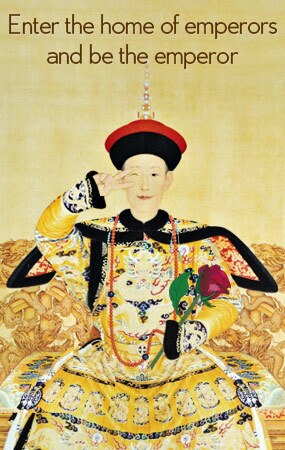 Zhangye(张掖) in Gansu Province is known for its unique landscape – Danxia landform.Named Ganzhou(甘州) in ancient China, it was one of the important stopping-off points on the Silk Road. Marco Polo once stayed there for about a year.
Introduction of China Danxia
China Danxia, or Danxia landform, inscribed on UNESCO's World Heritage List in August 2010, is the name of a unique type of landscapes.
Danxia landform was discovered and named by famous Chinese geographer Feng Jinglan in 1929.
The word "Danxia", referring "丹(vermilion)霞(sunglow)" in Chinese, is originated from a poem of Caopi (187-226), Emperor Wen of the Cao Wei Dynasty (220-265), who was also a famous poet in Chinese history.
Danxia landform is formed from red sandstone (red bed) influenced by uplift, weathering and erosion, with the alternating colors of the stratified layers clearly visible on exposed cliff faces, reflecting varying degrees of oxidization.
As an ancient Chinese saying describing it goes "Bright as vermilion and dramatic as sunglow", Danxia landform features red cliffs, towering peaks, deep valleys, decent forest covered peak groups, dramatic caves and diverse natural pillars, towers and waterfalls. A visit to China Danxia can be an impressive and interesting experience.
Main Features of the Mountains in the Park
Called Rainbow Mountains because of their fantastic colors and shape.
Most mountains in the area feature steep cliffs. Many of the cliffs are several hundred meters high, making for an impressive sight.
Best views are at sunrise and sunset.
Formed by the arid or semi-arid climate. The changeable colors are due to the reaction of minerals in the rock to different intensities of light.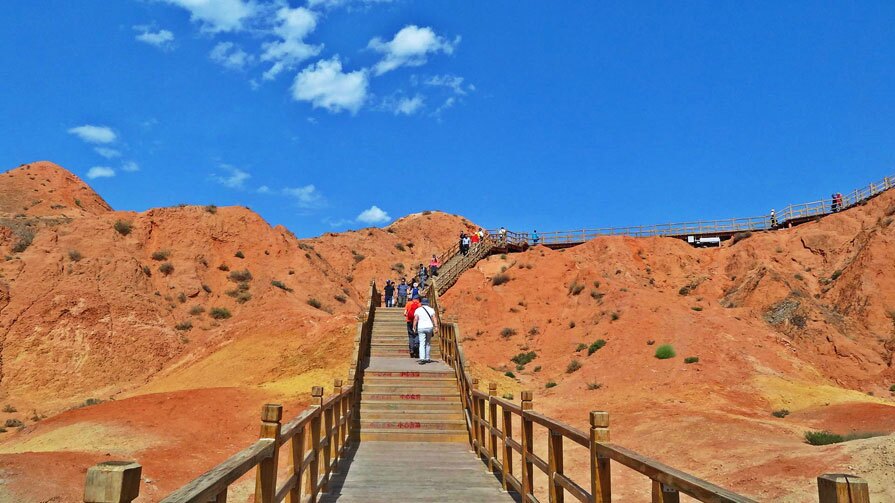 How to Get There
First Travel to Zhangye
Zhangye Danxia National Geological Park spreads between Linze County and Sunan County near Zhangye city. The Park has a total area of about 410 square kilometers, including 40 square kilometers of multi-colored mountains. It's not very easy to access a small city in northwest China like Zhangye. The best way to get there is to travel first to Lanzhou, the capital of Gansu Province, and then transfer to Zhangye by air or rail.  
By air:
Zhangye has a small airport 15km (10 miles) southeast of the city. There are limited flights from Lanzhou and Xi'an, but no flights from any other city.
By rail:
It takes 6 hours by ordinary train, or 3 hours by high-speed train, from Lanzhou to Zhangye. The 9 high-speed services leave from Lanzhou West Station (not Lanzhou Station), and the second class fare is CNY 150 (24 USD). There are direct services to Zhangye from e.g. Beijing (18 to 29 hours), Xi'an (11 to 20 hours), and Chongqing (24 to 29 hours).
Travel to Zhangye Danxia National Geological Park from Zhangye City
The national park is about 40km (30 miles) from the city. You can rent a private vehicle or take a public bus.
Private Vehicle:This is the most convenient way. Many local travel agencies and hotels provide this service. A taxi from Zhangye to the geological park costs about CNY150-200. Alternatively China Travel could tailor-make a trip for you and we can assure you that our tour bus is safe and high-quality, with a reliable licensed driver.
Public Buses: Take the bus from Xiguan Bus Station (西关汽车站, West Zhangye Station) to Linze county or Sunan county and get off at the entrance of the scenic area. Cost per person is about CNY10-20.
Buses run every hour from 9 to 12 in the morning, and at 3:40 or 4:40 in the afternoon. The bus service is mainly for domestic passengers and the running times are limited. As the service tapers off in the afternoon, you may need to wait for a bus on the way back.
Travel in the Zhangye Danxia National Geological Park with a Sightseeing Bus
Sightseeing buses run to places in the park where other tourist buses are not admitted. The buses go in a circuit from the gate to platforms 1, 2 3and 4 and then back to the gate. The ticket price is CNY20 per person.
Each Platform Has its Unique Beauty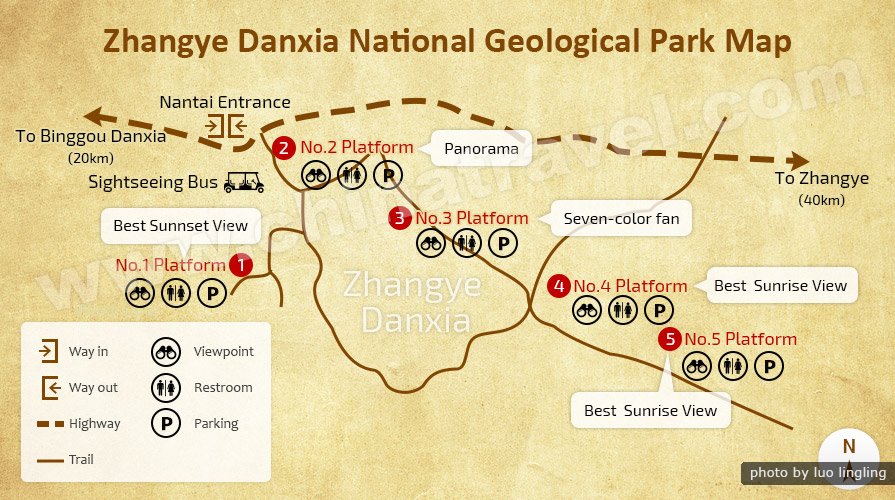 The distance between the four viewing platforms is about 8km(5miles). It takes about 2 hours to complete the whole trip with the sightseeing bus.
Platform 1:This is the best place for viewing sunsets. It is near(only 10 minutes' walk from) the entrance.
Platform 2:This is the highest platform, and has a great panorama of the landscape. (Climbing up here takes about 20 minutes.)
Platform 3: This provides a view of the famous 'seven-color fan' and of the reddest Danxia landscape.
Platform 4:This is the biggest platform, with the most beautiful sunrise view.
Best Time to Visit
June to September is the best time to view the colorful mountains because of the humid air and cool weather. Like most cities in northwest China, Zhangye is generally dry and has large temperature differences between day and night. This all makes sunrise (5:30-7:30)and sunset(17:30-20:30) the most incredible times. The best weather for appreciating Danxia landscape is sunshine. When the sun shines on the tilted landscape, visitors might feel a little dizzy.
Staying Overnight Near the Park
Many photographers choose to stay overnight near the park so they can view both the sunset and the sunrise. There is some local accommodation in the area, but the standards are not as high as those of city hotels.
Nearby Attraction - Binggou Danxia
Like the National Geological Park, Binggou Danxia has steep cliffs; but less colorful. It is not as famous as the park, so attracts fewer visitors, providing a quieter area for those who want to enjoy a more private tour. Entrance tickets cost CNY60.
Other Danxia Landforms
China has more than one Danxia landform. Other famous places include Mt. Wuyi in Fujian province, Mt. Langshan in Hunan province,Mt. Baishi in Guangxi,Mt. Yingshan in Chongqing, and Mt. Qingcheng in Chengdu.
Our local experts are always ready to create you a hassle-free tour. Get an authentic experience tailor-make your trip with us.
Location:

Taizi Village, Linze County, Zhangye City, Gansu Province
How to Get There?

1. Take bus to Danxia Landscape Park from West Passenger Bus Station of Zhangye. Ticket price is 10 yuan per person.
How to get to West Passenger Bus Station from Zhangye Train Station: take bus No. 1 to West Avenue.
2. Taking taxi to Danxia Landscape Scenic Spot takes about 60 yuan.
Ticket Price:

about 45 yuan per person; tourism bus ticket: 10 yuan
Opening Hours:

summer 7:00-18:00, winter7:30-17:00(opening times vary, however, with the weather conditions)
More Tips:

Recommended length of visit: 2 to 3 hours
Remember to wear enough clothes to keep warm in the evening.
For an authentic travel experience, contact one of our travel advisors. Our local experts are always ready to create a hassle-free tour for you.