Zhangjiajie Grand Canyon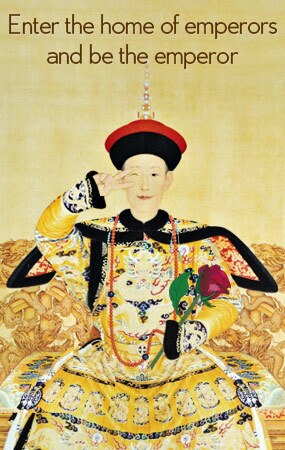 Zhangjiajie Grand Canyon is a natural wonderland where incorporates mountains, streams, caves, cliffs, and forest. It covers a total area of over 60 square km, located close to Wulingyuan Scenic Area, the main tourist area in Zhangjiajie, which spans a total area of over 370 square km. Now, Zhangjiajie Grand Canyon is becoming a top tourist attraction in Zhangjiajie.
Quick Facts About Zhangjiajie Grand Canyon
Name in Chinese: Zhāngjiājiè Dàxiágǔ 张家界大峡谷
Opening Hours: April - November: 7:30-17:30, December - March: 08:00 to 16:00
Ticket Price:Route B- RMB 256 P/P for the Grand Canyon and the Glass Bridge; Route C- RMB 138 P/P only for the Glass Bridge
Recommended Visited Time: about 4 hours (excluding transportation time)
Location: Zhangjiajie Grand Canyon Scenic Area, Cili County, Zhangjiajie
A Brief History of Zhangjaijie Grand Canyon
According to the local legend, Zhangjiajie Grand Canyon had two names. One called Lanchuanxia ("Rotten Ship Gorge"). The canyon's water comes from Shenquan Stream, and appears to gush from a ship's rotten boards.
Another is Luanquanxia ("Massive Springs Gorge"). It is because there are numerous springs flowing at both sides of the gorge.
Scenic Highlights of Zhangjiajie Grand Canyon
There are a lot of both picturesque scenic spots, such as Bandit Cave, One Line Sky, The Millennial Rattan, Chuangwang Pavilion, Rotten Ship Rock, Slide-way, Butterfly Spring Waterfall, and Tianhe River Sightseeing Deck.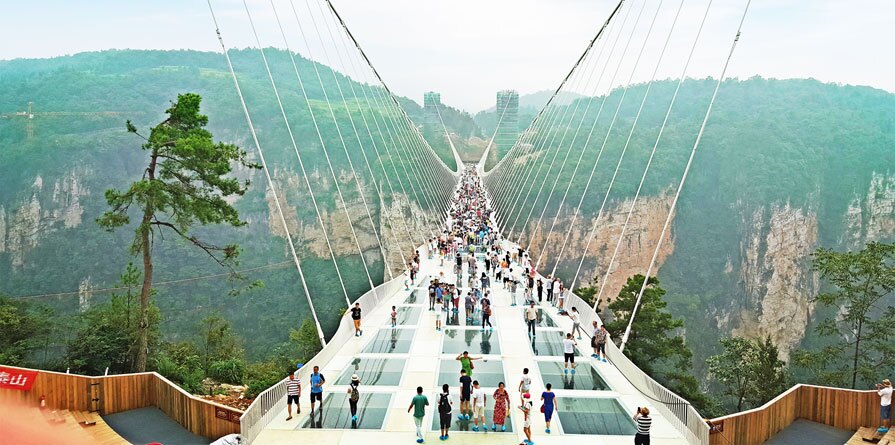 Zhangjiajie Glass Bridge
1. The World Longest & Highest Glass Bridge
The Glass Bridge is now open to public and it limits the number of visitors to 8,000 everyday. Anyone who wants to step on the bridge needs to book the ticket at least one day ahead on its official website (http://www.hnzjj.com/wlyen/). The bridge costs about RMB 138 per person. The alternative route to the bridge is: Tourists Center- the Glass Bridge-The Sky Ladder- The Rainbow Square- Water Curtain- Momo Cave- Magic Lake.
It is the both tallest and longest glass bridge in the world, 430 meters long and 300 meters from the bottom of the Zhangjiajie Grand Canyon. There is a bungee jump, which is the highest in the world. A full view of Zhangjiajie Grand Canyon can be seen by standing on the glass bridge. Walking over the glass bridge is a challenge if you have the slightest fear of heights. If you dare venture forth, you can see the 300 meters drop to the canyon's bottom.
Travel Tips
To ensure safety, the bridge might be closed at short notice when weather becomes extreme.
Visitors are only allowed to bring their wallets and mobile phones with cases on the bridge.
Not recommended for participants with heart complaints or other serious medical conditions.
Wearing high - heeled shoes is not permitted on the bridge.
2. One Line Sky
In a narrow and long gorge close to the entrance gate of Zhangjiajie Grand Canyon is a path 700 meters long, surrounded by cliffs 300 meters high. It looks like a passageway to Zhangjiajie Grand Canyon. It is a nice place to experience the grandeur of steep cliffs. Looking at the sky from this narrow gorge, visitors will feel like the sky has become small.
3. The Sky Ladder
The Sky Ladder is a wooden ladder along steep cliffs and ridges. It spans from the top of a mountain down to the bottom. And after a three minutes walk along the Sky Ladder, visitors can have a bird's eye view of One Line Sky. It looks like a ladder that extends from the sky. (Chinese) visitors relax themselves by shouting there.
4. The Family Portrait
It consists of three stone peaks of different heights, which look like a family of three. The tallest one is "father", the shortest is "child", and the middle-sized one is "mother".
5. Bandits' Cave
It is named after the many bandits who lived in this cave long ago. The local police wanted to arrest the bandits. But the bandits' cave was hidden in the mountains, and was very easy to defend, so the police couldn't capture the bandits.
6. The Slide-Way
The slide-way combines the functions of transportation, entertainment, sightseeing, as well as environmental protection. This slide-way is made of smooth granite, 600 meters long. By taking this slide-way from the top of mountain, visitors can enjoy wonderful scenery and save their strength after the long climb to the top.
7. The Flying Springs
At the bottom of the canyon, there are many springs flowing down from the sides of cliffs, and it looks like the springs are flying. On sunny days, beautiful rainbows can be seen there.
How to Get to Zhangjaijie Grand Canyon
By Bus: From the bus center in downtown Zhangjiajie, there is direct bus to the Grand Canyon, which takes RMB 24 and 30 minutes.
Book a Zhangjiajie Grand Canyon Day Trip with us.
Nearby Attractions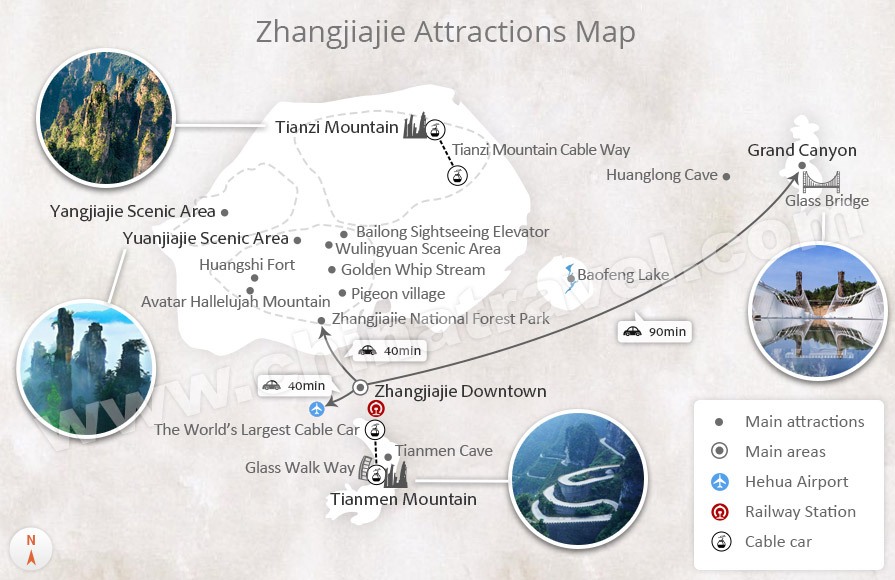 In Zhangjiajie there are many splendid and naturally-formed sights, such as Zhangjiajie National Forest Park, where you will see the South Pillar of Heaven Mountain, known as Hallelujah Mountain, which is said to have inspired the floating mountains in Avatar, and Tianmen Mountain National Forest Park, which is a magnificent scenic area with a hole known as "Heaven's Gate".
More Tips:
It is suggested that visitors should take rain-proof and coat in case of the changing of weather and take umbrella or raincoat in case of getting wet when through the places that flying springs flow down.
Recommended Zhangjiajie Tours:
For an authentic travel experience, contact one of our travel advisors. Our local experts are always ready to create a hassle-free tour for you.