Yuanjiajie Scenic Area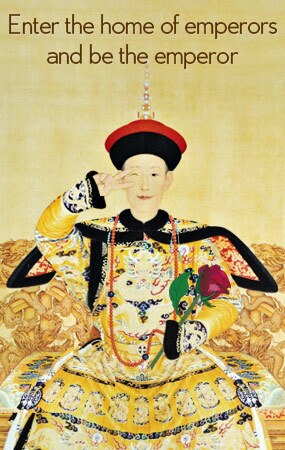 Yuanjiajie ("Boundary of Yuan") Scenic Area is a part of the Zhangjiajie National Forest Park, itself one of the four subsections of Wulingyuan Scenic Area. Yuanjiajie Scenic Area is situated in the northern part of the forest park, near the boundary with another subsection of Wulingyuan Scenic Area, namely, Tianzi Mountain Nature Reserve. More specifically, Yuanjiajie Scenic Area is located between the Yellow Stone Fort scenic site of the Zhangjiajie National Forest Park subsection of Wulingyuan Scenic Area and Tianzi Mountian of the Tianzi Mountain Nature Reserve subsection of Wulingyuan Scenic Area.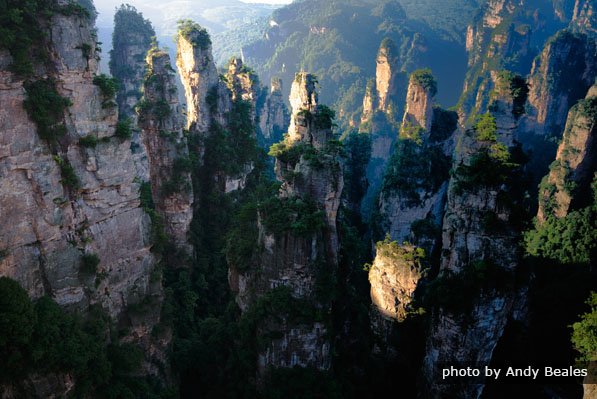 Yuanjiajie Scenic Area is for good reason a separate subsection of Zhangjiajie National Forest Park. It is much more than just another scenic site – though scenic sites are ultimately the building blocks of any scenic area – it is so special that one is tempted to pronounce it the most impressive single site in all of Zhangjiajie National Forest Park.
That said, Yuanjiajie Scenic Area is essentially, like much of Wulingyuan Scenic Area in general and like much of Zhangjiajie National Forest Park in particular, a large, shrub-and-tree-clad, platform-like block-and-obelisk landscape with a hollowed-out valley floor, with a pristine mountain stream running through it, at its center.
Alternatively, one could as easily insist that Yuanjiajie is a valley of freestanding, shrub-and-tree-clad towers surrounded by a wall of massive shrub-and-tree-clad sandstone blocks, except that in reality, the more massive, or block-like sections of Yuanjiajie do not form a neat wall around a neat valley, but rather, the whole is a conglomeration of massive platforms interspersed with freestanding elements – obviously the product of highly irregular forces of erosion.
But even this latter description has to be qualified, because the "freestanding" elements sometimes appear in pairs or triplets, while the "massive" blocks are in places splintered into freestanding elements at their peaks (by comparison, if one looks at a newer mountain range, then the typical pattern is a series of more or less closely-packed ridges – and ridges naturally imply gorges in between the ridges – so if we imagine ancient mountain ridges eroded into towers and semi-massive blocks, and with a corresponding expansion of the gorges, then the result would probably resemble quite closely many areas within Wulingyuan Scenic Area).
Inspiration for Avatar
However one chooses to view it, Yuanjiajie Scenic Area has a mystical, almost other-worldly look about it, which is surely why James Cameron, the maker of the Hollywood film, Avatar, was inspired by Wulingyuan Scenic Area in general – and by Yuanjiajie Scenic Area in particular, insist some – in creating the floating Hallelujah Mountains of his famous, virtual-world film (as some have pointed out, the very notion, even, of floating mountains as "seen" on the imaginary planet of Pandora can be traced to sites like Yuanjiajie (they exist in other parts of the world too), since the view of such a place when it is bathed in thick mists, where only the upper parts of the mountain-peak remnants are visible, can easily give the illusion of floating mountain peaks).
When the thick mists are present, Yuanjiajie has an eerie aspect about it; standing on a relatively safe perch atop a massive section of Yuanjiajie and looking down into the valley of freestanding, shrub-and-tree-clad towers and semi-massive sandstone blocks rising up from the partially obscured valley below, one can imagine all manner of strange creatures – even demons – living below.
It looks a bit like what I imagine the earth may have looked like during the age of the dinosaurs. Of course, once you know that there is nothing more spooky down there than giant salamanders – and when travelling in the safety-in-numbers company of a flock of fellow tourists – it all looks more quaintly beautiful than genuinely frightening, but I suspect that you wouldn't particularly relish the thought of being stranded here alone at dusk...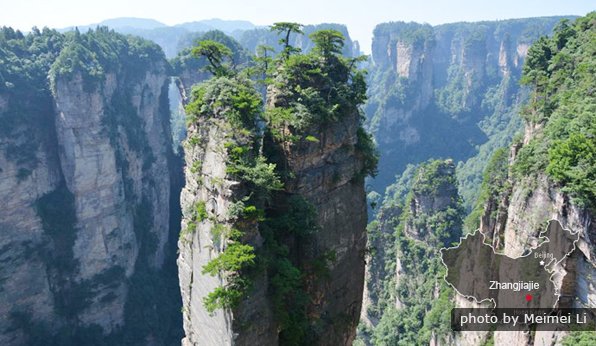 HIGHLIGHTS
There are four main scenic sites within Yuanjiajie Scenic Area. Two of them span a rather large geographical area, the other two are more modest in size, while they are all natural wonders, not manmade creations. The sites are: HouHuayuan("Rear Garden"); Mihun Tai ("Enchanting Platform"); Tianxia Diyi Qiao (literally: "Bridge Across the Sky", but better known as "First [as in "Number One"] Natural Bridge Under Heaven"); and Qiankun Zhu ("South Pillar of Heaven", aka the "The Pillar Between Heaven and Earth"). There is a long string of lesser sites consisting of individual massive blocks and freestanding obelisks in bizarre shapes that give rise to their names. 
Rear Garden
Rear Garden is Yuanjiajie's answer to the Front Garden of Yellow Stone Village, and is a typical Wulingyuan composite landscape consisting of freestanding obelisks and massive blocks set in deep ravines that radiate out with little pattern, with dense tree coverage on the floor of the ravines and with shrubs and trees growing out of every available nook and cranny of – as well as from the tops of – the obelisks and massive blocks (many of the trees growing on the obelisks and blocks come in dwarf sizes, giving the impression of a bonsai garden – they have obviously adjusted their growth to the limited nutrient supply available).
A poet touring the Zhangjiajie area, upon viewing Rear Garden, felt compelled to make a a comparison between Rear Garden and the inarguably impressive scholar gardens of Suzhou with the following remark: "You may say I am in a city, but I insist that I am in the mountains. Now, those gardens [the Gardens of Suzhou] are world renowned, but after all, they are produced artificially, restricted by the craftsman's skills and limited by the availability of materials, the dimensions of the land and the given style of construction, while the "garden" that lies before us [Rear Garden] seems unrestrained; remarkable peaks appear to be strewn about randomly, some lofty and some diminutive, some have the appearance of towers, pavilions, stools, and chairs, while others resemble bonsais atop pedestals. Indeed, some of these peaks look like things we can only imagine, taking on every conceivable shape!"
Enchanting Platform
Enchanting Platform has been proclaimed as the best natural observation platform in all of Yuanjiajie. Viewing the scenic area from this platform is a truly breathtaking experience; no trip to Yuanjiajie Scenic Area should be contemplated that doesn't include a visit to Enchanting Platform!
First Natural Bridge Under Heaven
First Natural Bridge Under Heaven, or "Bridge Across the Sky" as it is formally known, is a natural bridge, i.e., a large sandstone block that has had a large, vertically elliptical section hollowed out of it near the summit, leaving a "bridge" at the top connecting the two pieces. One of the sides is a masive block while the other side is a nearly complete freestanding obelisk, except that it is still connected to the massive block at the base and at the top (think roughly of a modified donut flattened at the top and the bottom and with a vertically-oriented elliptical hole instead of the usual round donut hole).
The "bridge" at the top spans 25 meters in length, is 2 meters wide and is about 5 meters thick (measured from the flat surface at the top to the upper boundary of the "donut hole" below). Aircraft participating in air shows periodically fly through this "needle hole" (given its elliptical shape, it resembles a needle hole more than it resembles a donut hole), albeit, "stacked" one atop the other, something that is necessitated by the "donut's" vertically-oriented elliptical shape. First Natural Bridge under Heaven even holds a world record: it is the highest natural "bridge" in the world.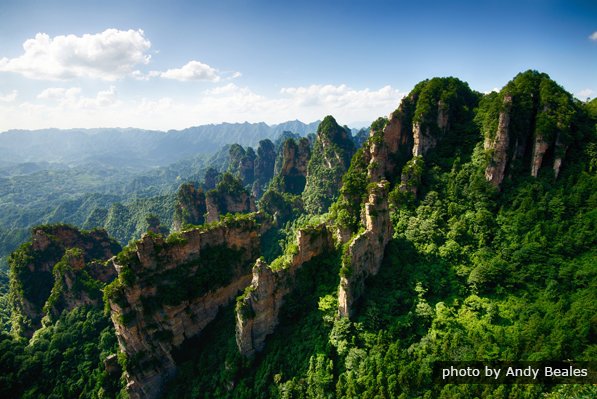 South Pillar of Heaven
South Pillar of Heaven, or "The Pillar Between Heaven and Earth", as it is as commonly known, is said to be the natural physical feature that most inspired James Cameron, maker of the sci-fi, virtual-world film, Avatar, when he came up with the idea of the film's floating Hallelujah Mountains (some say that Cameron insists that it was the peculiar topography of Yellow Mountain (Huangshan) in Anhui Province that was the inspiration for the film, while others claim that Cameron has said that he let himself be inspired both by Huangshan and Wulingyuan as well as by numerous other similar topographies the world over). However, those who have seen both Huangshan and Wulingyuan are in no doubt, regardless of what others might have claimed about James Cameron's source of inspiration: Yuanjiajie's South Pillar of Heaven, rising about 150 meters from the valley floor below (that's about one-and-a-half football fields high!) is Hallelujah Mountain!
Yuanjiajie Scenic Area is unquestionably one of the most spectacular sites of Wulingyuan Scenic Area, and is probably THE most spectacular site of Zhangjiajie National Forest Park, according to the general consensus of most who have visited the forest park. While one can easily be carried away by the incomparable vistas offered from Yuanjiajie's various viewing platforms, to get a full appreciation of the fantastic dimensions of Yuanjiajie, one should also view the scenic area from the valley floor. Walking alongside a tumbling, pristine mountain stream on the valley floor with the amazing block-and-obelisk rock formations towering above only heightens the experience and appreciation of the view from atop the viewing platforms.
Whether you view it through the prism of a Hallelujah Mountain or through the prism of a possibly very realistic Jurassic Park – i.e., less the neatness of a park, Hollywood style – Yuanjiajie Scenic Area is truly a gem, if only a diamond in the rough.
More Tips:

1) Note that to get to Yuanjiajie Scenic Area, which lies near the northern extremity of Zhangjiajie National Forest Park between the forest park's Yellow Stone Fort and the Mount Tianzi Nature Reserve, the easiest route is to follow the forest park's Golden Whip Stream to the scenic site, Shui Rao Xi Men ("Stream Winding Around Four Gates"), then  catch a bus to Bailong Tianti ("White Dragon Sky Elevator") – the amazing outdoor elevator that will carry you a distance corresponding to some 40 storeys in the space of a mere two minutes. At the summit, take the Yuanjiajie Scenic Area bus and get off at Mihuntai ("Enchanting Platform"), which marks the entrance to Yuanjiajie Scenic Area.
Alternatively, if you prefer to take the shorter but more arduous (but perhaps more rewarding) walk all the way to Yuanjiajie Scenic Area, then follow Golden Whip Stream until you arrive at Qian Li Xiang Hui ("Pining Couple Meet Again") where you will see a sign directing you to Yuanjiajie Scenic Area (note that the Pining Couple Meet Again scenic site is located about half the distance to the Stream Winding Around Four Gates site of the easier but longer route, though it involves a bit of an incline).
2) Be sure to wear appropriate shoes, and if you intend to do a lot of hiking, it is highly recommended that you wear a pair of good, well-broken-in hiking shoes. The kind that supports the ankle (a boot of sorts) is naturally to be preferred over the kind that doesn't.
Recommended Zhangjiajie Tours:
For an authentic travel experience, contact one of our travel advisors. Our local experts are always ready to create a hassle-free tour for you.