Wulingyuan Scenic Area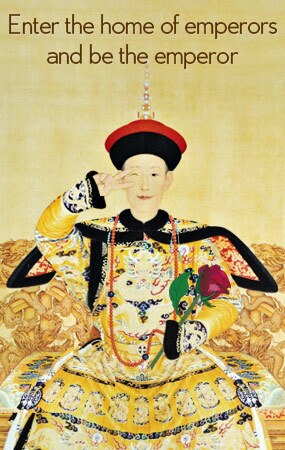 Located in the north of Zhangjiajie City, Wulingyuan Scenic Area boasts of natural beauty where mountains, valleys, forests, caves, lakes and waterfalls exist in total harmony. It is said to be "the ampliative miniascape and the contractible fairyland" and was admitted to the "World Heritage List" in 1992.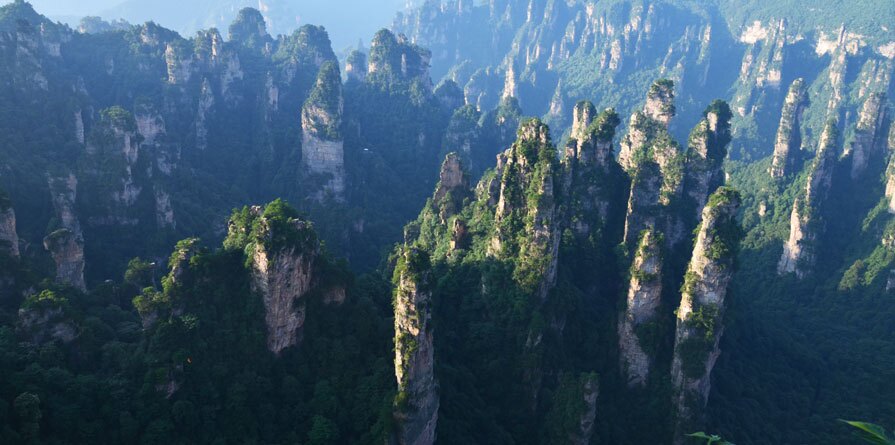 Wulingyuan Scenic Area
It covers an area of 500 square kilometers (193 square miles), consisting of over 560 attractions, including Zhangjiajie National Forest Park, Yellow Stone Village, Golden Whip Stream, Yaozi Village, Yangjiajie, Avatar mountains, Yuanjia Ancient Village, Tianzi Mountain and more. There are also fantastic attractions nearby, like Yellow Dragon Cave, Baofeng Lake, Xibu Street.
Quick Facts
Name in Chinese: Wǔlíngyuán 武陵源
Location: Wulingyuan Scenic Area, Wulingyuan District, Zhangjiajie
Opening Hours: 7:00-18:00
Ticket Price: CNY 225/person from March to November, CNY 115/person from December to February
Best Time to Visit: April and October
How to Get to Wulingyuan
From Zhangjiajie Central Bus Station, take a tourist bus to Forest Park Ticket Office (森林公园门票站). The bus departs every 10 minutes and the journey takes 45 minutes and CNY 12.
Zhangjiajie and Wulingyuan Scenic Area Map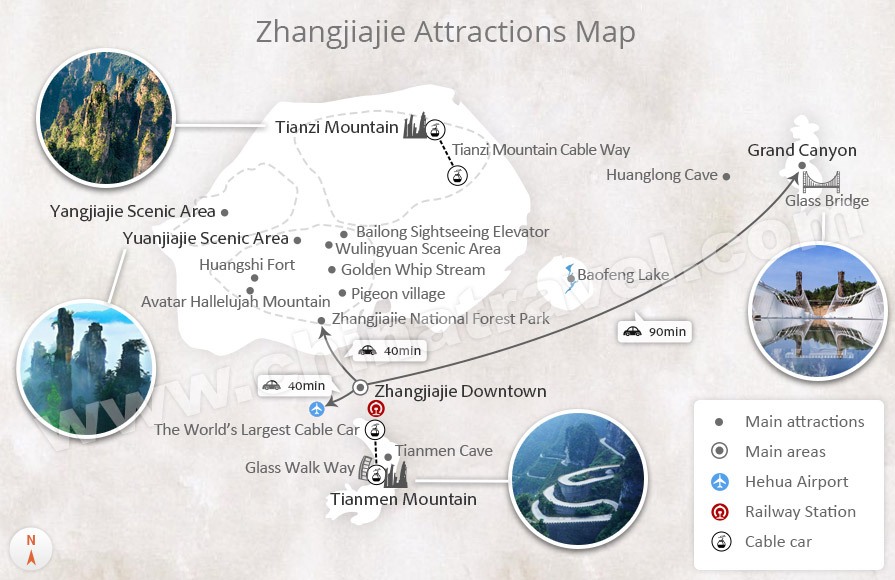 Highlights of Wulingyuan
Zhangjiajie National Forest Park
Covering 48 square kilometers (18.5 square miles), Zhangjiajie National Forest Park is the first authorized national forest park in China. It is located 32 kilometers from downtown and listed as UNESCO World Heritage Site in 1992. The park features grotesque peaks, lucid brooks, abundant fauna and floras and hospitable climate. It's highly recommended to explore it by hiking. 2-3 days are enough to admire its essence.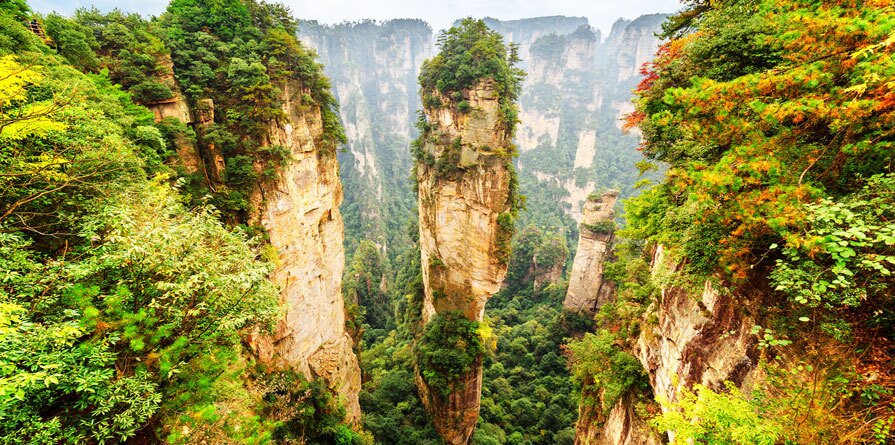 Zhangjiajie Avatar Hallelujah Mountains
Yellow Stone Village (Huangshi Zhai)
With an elevation of 1080 meters, Yellow Stone Village presents the largest collection of marvelous impending cliffs and jagged rocks, and provides the largest sightseeing platform in Zhangjiajie. A saying goes "He who does not reach Huangshi Village does not pay a true visit to Zhangjiajie". Hiking needs about 3 hours and it's suggested to take cable car to get up and down, especially tourists with weak strength.
Golden Whip Stream (Jinbianxi)
Located only about 500 meters from the entrance of Zhangjiajie National Forest Park, Golden Whip Stream is a great place for relaxing walk for 2-3 hours. It's 7.5 kilometers long, with tranquil water, verdant mountains, steep cliffs and serene valley. It is called "the most poetic valley in China". Here tourists also have chance to view the rock structure from below.
Yaozi Village (Yaozi Zhai)
Situated in the northeast of the Zhangjiajie National Forest Park, Yaozi Village is a quiet and fantastic mountain with over 5000 steps. On the top of the village there a wonderful natural viewing platform, where tourists can admire thousands of pillar-like hills, split by bottomless abysses, sprang up into the sight and soared up dramatically. It is a best place for hiking with over 5000 steps, popular with hiking lovers. Four hours is needed to explore the village.
Yangjiajie (Peak Wall)
Yangjiajie is a newly developed area and it is not so well equipped with tourism facilities compared, but not crowded. It boasts of cliffs, waterfalls, streams, gullies, especially peak walls. It is divided into three major sightseeing areas, namely, Xiangzhi Stream, Qingfeng Gorge, and Hundred Monkey Valley. As it's not developed completely, half a day is enough to enjoy its wildness and beauty, but it's difficult to walk on some roads. Tourists with great strength could try to finish a complete tour by hiking for 5 hours.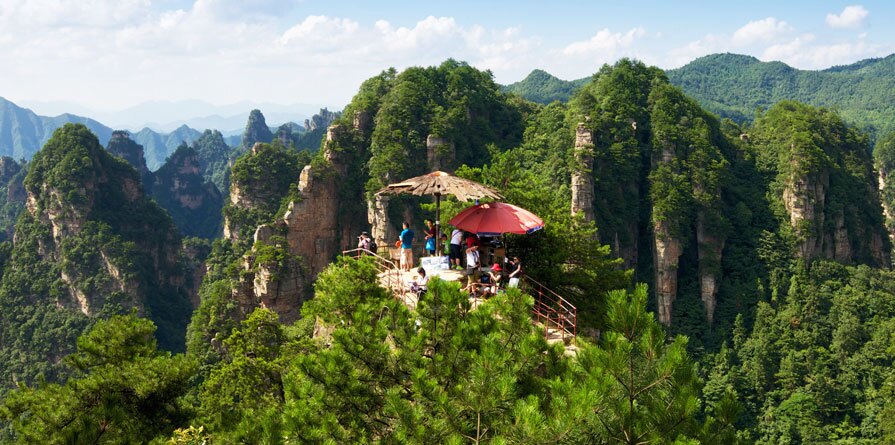 Yangjaijie Scenic Area
Yuanjia Ancient Village
Located in the center of Yuanjiajie, Yuanjia Ancient Village shows the Tujia minority breeding history, living habits, living things, and so on. Here tourists can fully understand the ancient Tujia people's life, Culture and Folklore. The village lost contact with the outside world for hundreds of years due to natural environment transformation. Today the villagers' life remains a hundred years ago, worth exploring.
Tianzi Mountain (Tianzishan)
Known as "the monarch of the Peak Forest", Tianzi Mountain covers an area of 67 square kilometers. From the top, tourists can get the panorama of Wulingyuan Scenic Area. A saying goes that "people who have visited Tianzi Mountain wouldn't climb any other mountains". There are four wonders here, including the Sea of Clouds, the Radiance of the Moonlight, Rays of Sunshine and the Snow in winter.
Ten-Mile Gallery
Ten-Mile Gallery is a narrow and long valley with a length of 5.8 kilometers, located in the northwest part of Suoxi Valley, at the foot of Tianzi Mountain. Peaks rise in various shapes on both sides and steam flows through, looks like outdoor sculpture showroom. The "Old Gatherer of Herbs" and Couple Rocks are most spectacular. Hiking slowly to admire flowers and water is recommended. Or taking a ride on the electric train which would take you enjoy it slowly.
Nearby Attractions
Yellow Dragon Cave (Huanglongdong)
Yellow Dragon Cave is a typical Karst cave which praised as the most beautiful cave in the world by UNESCO Experts. With an area of 48 hectares, it consists of two underground rivers, four waterfalls, 13 caverns and 10,000 stalagmites and stalactites. The limestone here is colorful and translucent, creating attractive sounds with tater, like music from heaven. It's worth appreciating for 2-3 hours.
Baofeng Lake (Baofeng Hu)
Baofeng Lake is an artificial lake formed by blocking gorge with the dam, located only 8 kilometers from Yellow Dragon Cave. The water of the lake comes from precipitate, mountain spring and underground water. It contains two major parts: Baofeng Lake and Yingwo Village. Tourists may take a boat to enjoy the clear lake reflecting the nearby mountains or admire the ancient temples in Yingwo Village. Folk Song Festival in March is very important for young people to express their love for each other.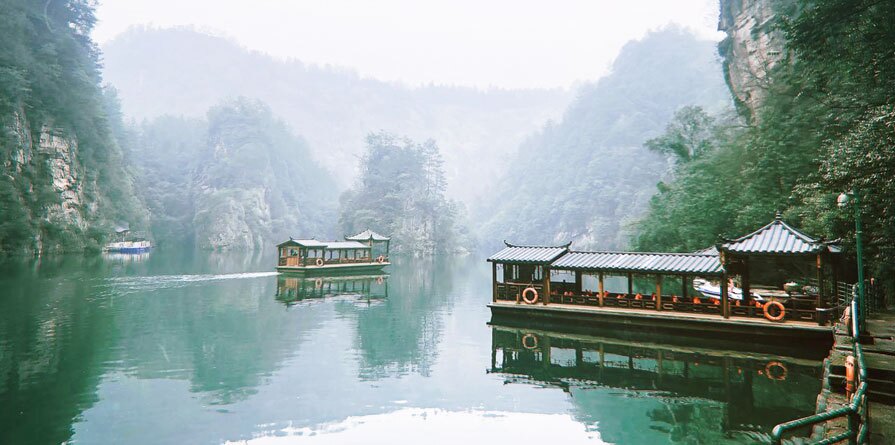 Baofeng Lake
Wulingyuan Xibu Street
Xibu Street covers an area of about 100 acres. The construction combines street and courtyard, presenting romance, elegance and happiness, and also reflecting the fashion and simple quality. Using Tujia and Miao traditional language as showing elements for the construction makes facade styles unified and rustic. It consists of water bar street, the Chinese snack street, Xiangxi folk shopping street, leisure inn and creative mate. It's suggested to visit for one hour in the evening.
More Tips:
1. As indicated in the above, it is a good idea to bring along a pair of good hiking shoes if one intends to hike the back trails of Wulingyuan, but even if one only wishes to walk the regular pathways and walkways of the scenic area, it is a good idea to wear sturdy, sensible shoes.
2. Wearing layered clothing is in fact a must if one wishes to enjoy one's sojourn at Wulingyuan to the maximum, and on lengthy walks, it can be a long way back to one's hotel. Similarly, a light, easy-to-store rain suit or a large umbrella is highly recommended, since rain showers can sometimes be a daily occurrence.
Recommended Zhangjiajie Tours:
For an authentic travel experience, contact one of our travel advisors. Our local experts are always ready to create a hassle-free tour for you.