Golden Whip Brook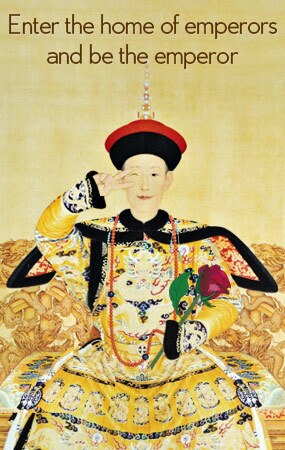 Located in Zhangjiajie National Forest Park, 32 km from Zhangjiajie City, Hunan Province, Golden Whip Brook is a both delicate and splendid stream. It extends 5,700 meters long, winding across valleys and mountains and cliffs. Visitors can enjoy a real tranquility of nature by taking a stroll in the walking path that alongside the whole Golden Whip Brook.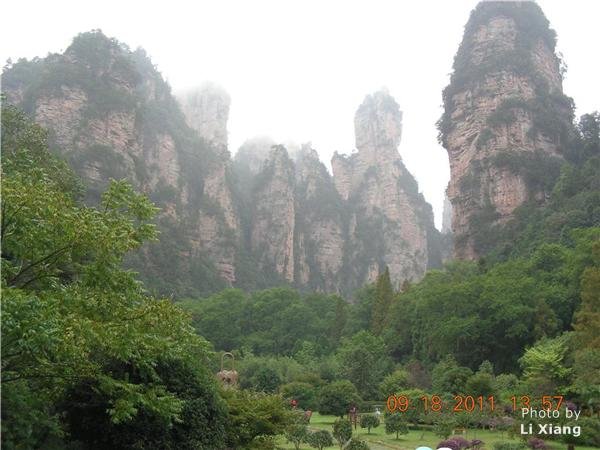 Overview of Golden Whip Brook
Golden Whip Brook is limpid with crystal water through the year and there is ice-free period. It is praised as "The Gallery of Landscape" and "The Heaven on Earth." There are a series of steep peaks and ridges at the two sides of the brook, which makes it overwhelmingly beautiful scenery as "People walking in the canyon while mountains are passing by the canyon."
Golden Whip Brook also called The Grand Canyon of Golden Whip Brook. It is crowned as "The Most Beautiful Grand Canyon in the World." Golden Whip Brook was named after the Golden Whip Rock, a 350 meters tall rock that it runs along.  
Golden Whip Brook is a paradise for plants. The stone pathways along it are decorated by a number of wild trees, grasses and flowers. It is also a kingdom for animals, which can be seen many animals playing around this brook.
Top Things to See In Golden Whip Brook
There are many both picturesque and splendid scenic spots such as Golden Whip Rock, the Welcoming Guests Rock, Mother and Child Peak, Drunk Arhat, Holy Hawk Protecting the Whip, Camel Peak and Shuiraosimen (literally Water Winding Four Gates) etc, those are worth having a visit.
Golden Whip Rock
It is a magnificent rock with 350 meters tall located south Golden Whip Brook. This rock is both straight and angular, which makes it look like a Chinese ancient weapon Bian (鞭,literally Whip). It is said that Qinshihuang (literally Emperor Qin, the first emperor of Qin Dynasty) passed by the brook on his way to drive mountains to the sea in order to fill the sea.

However, Emperor Qin was drunk when he passed by here and left his weapon Bian. So the weapon Bian turned into a stone peak called Golden Whip Rock. There is a pavilion located 50 from the rock, which makes it a best place to visit the grandeur of Golden Whip Rock
Holy Hawk Protecting the Whip
It is a hawk-shaped stone peak that located to the left of Golden Whip Brook. This hawk-shaped stone peak is with wings extending and mouth opening that stands upright close to Golden Whip Rock. It looks like a hawk want to protect the Golden Whip Rock from invading.
Water Winding Four Gates
The indirect Golden Whip Brook begins to runs through four stone gates when it passing by Mata Stream. So it called "Water Winding Four Gates." The terrain here is plain and there is a sandbank, which regarding as the birthplace of Xiangwangtianzi (literally Emperor Xiangwang), a leader of Tujia people during Ming Dynasty.
It is said that people will enjoy themselves so much as to forget to go home for the gorgeous spectacle of "Water Winding Four Gates."
The Welcoming Guests Rock
It is a tall stone peak that looks like a young girl welcoming the guests from distant place.
Transportation
Taking a 300 meters walk from the gate of Zhangjiajie National Forest Park get access to the entrance of Golden Whip Stream.
Tips
It takes visitors 3 hours walking along the Golden Whip Brook.
It is suggested that visitors should take rain-proof and coat in case of the changing of weather.
Nearby Attractions
There are some magnificent and picturesque scenic spots such as Tianzi Mountain Nature Reserve and Baofeng Lake around Golden Whip Brook. Tianxi Mountain Nature Reserve is a nice place for people to enjoy the spectacular sunrises and breathtakingly beautiful winter snow scenery.
Baofeng Lake is a delicate lake with majestic waterfalls around it, which visitors can enjoy a tranquil scene and escape from the noise of city life.
Recommended Zhangjiajie Tours:
For an authentic travel experience, contact one of our travel advisors. Our local experts are always ready to create a hassle-free tour for you.