Baofeng Lake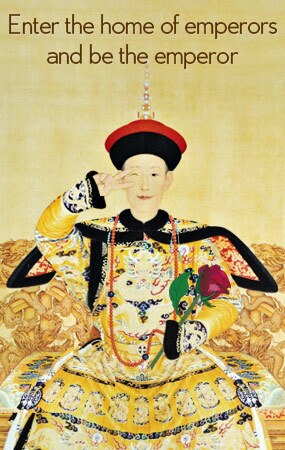 Baofeng ("Treasure Peak") Lake Scenic Area, part of the larger Wulingyuan Scenic Area – specifically, the Suoxi Valley subsection – of Hunan Province that was listed as a World Heritage site in 1992, is situated on and around Mount Baofeng in the northern part of the province, not far from the metropolis of Changde. Baofeng Lake Scenic Area comprises some 275 hectares, and consists of Baofeng Lake and Yingwo Stockade Village.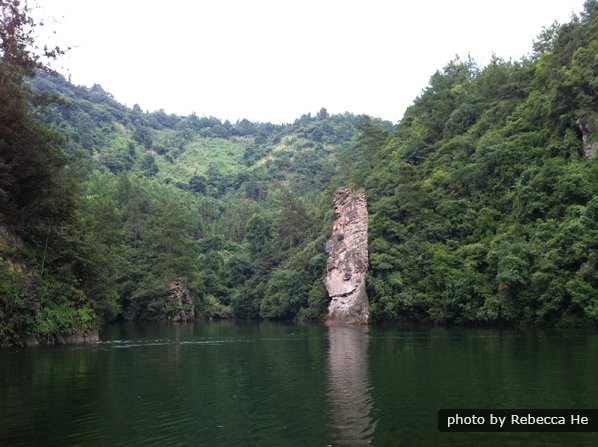 Baofeng Lake and the area immediately surrounding it offer pristinely beautiful natural scenery. Being located high up in the mountains, the lake catches some of the first and purest runoff water from the mountain peaks. Its height also guarantees an air freshness not found around lakes at lower altitudes. Baofeng Lake is bordered by lush green trees and shrub-clad stone peaks of various shapes that enclose the lake and give it a fairytale-like atmosphere. Indeed, Baofeng Lake is a reservoir, with a dam enclosing its waters, not for the purpose of power generation, but for the purpose of crop irrigation.
There are also majestic waterfalls that seem to pour out of the mountainside and which add an even more invigorating freshness to the air. Not far from the lake itself is a deep, gorge-like valley that is less than 4 meters wide on average, and creates a most unusual sight when one views the sky from the valley floor: the sky up above looks like a long, wavy, silk ribbon. It is one of the most unique sights in all of China, and, indeed, anywhere in the world.

Nearby Mount Baofeng, with an elevation of over 1200 meters above sea level, points straight up to the sky. Yingwo Stockade Village, a former military outpost atop the mountain, is strategically located in terrain that offers only difficult access. However, the ascent is worth it, for upon reaching the top of the mountain, one has a marvellous view of all the smaller peaks below (one understands well why this spot was chosen as a military outpost in ancient times, as defending it was easy).

Baofeng Temple is also located within Baofeng Lake Scenic Area, discreetly hidden in among the surrounding verdure. It is an old, graceful temple, constructed for monks in search of isolation in order better to devote themselves to contemplation.

Wulingyuan Scenic Area certainly boasts other spectacularly beautiful sites, but Baofeng Lake, with its deep, serene waters and its fairytale-like, pristine surroundings, ranks among the top attractions of Wulingyuan. As is typical for Chinese architects of old, manmade structures that must necessarily intrude on such a uniquely beautiful landscape have been erected with a minimum of violence, as it were, to the work of mother nature.
How to Get There?

From Zhangjiajie, you can take a bus to Wuling Yuan Town. From Wuling Yuan Town you will have to proceed to Beofeng Lake either by rented automobile, or, if you are a group, by minivan.
More Tips:


1) The best time for a visit, if you want to enjoy the beautiful scenery of the mountains silhouetted in the lake (who doesn't?!), is in April and May or August and September, skipping the hottest months, June and July. The weather at the periods in question is fine, with moderate temperatures.

2) Regarding the culinary offerings, there are a number of local dishes that are a specialty in the restaurants and other eateries of Baofeng Lake Scenic Area, though standard national dishes are served as well.

3) Shoppers should note that one can find lots of local handiwork here, as well as souvenirs to remember the area by.

4) Regarding accommodations, there are a number of good, moderately-priced hotels in the area such as Baofeng Hotel and Baofeng Mountain Villa.
Recommended Zhangjiajie Tours:
For an authentic travel experience, contact one of our travel advisors. Our local experts are always ready to create a hassle-free tour for you.