Exclusive Guilin Local Activities & Experiences
See real Guilin by participant the local activities, stop and think about the place, approaching local culture not just photo stop like regular tour, granted you may have unique experience until you have been.
In Guilin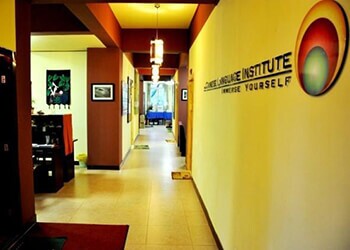 Chinese Learning Class in CLI
Chinese Learning Class in CLI (2 hours)
The Chinese Language Institute (CLI), an official partner of China Travel (China Highlights international service), has emerged as one of China's leading centers for Chinese language and cultural studies. CLI's one-on-one class structures and dedicated teachers have got you covered. the two hours class will have intensive introduction to the basic fundamentals of Mandarin Chinese, learn how to introduce yourself in Chinese, count to 100, and say basic phrases that are particularly useful in restaurants and markets. Before and after class, you can interact with the students in school with different background, get to know how they live and study in China.
Li River Pebbles Art Experience – Suitable for Family with Kids (1 hour)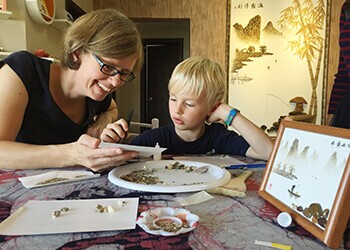 This is a unique art experience that use pebbles collected from Li River as material, layout with various size and shapes, put together as a picture you desire. This activity suitable for kids over 5 years old. What procedures in the class?
Step 1: Select a picture as framework of painting from the pictures presenting in the classroom. Or just use your imagination.
Step 2. The teacher gives you a cardboard that have picture you select along with some pebbles collected from the Li River, and demonstrate how to arrange the pebbles stick on and combine as a picture.
Step 3. It your time to bring into a real pebble picture, take away your work after finish.
Chinese Tea Culture Experience (1 hour)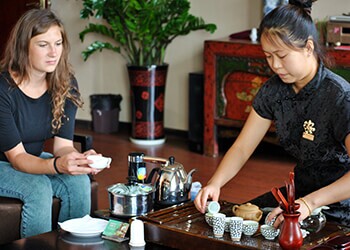 Chinese Tea Culture Experience
Meet Guilin tea experts in their tea house in style of Chinese, the tea experts will give you brief introduction of tea culture and history, then demonstrate to the art of tea ceremony.
You will have opportunity to taste 3 different kinds of tea and pastries, study how to make green tea and fill with hot water (the temperature of the water is as key point), tasting tea while listen to the musician play a traditional Chinese instrument – Quqin.
Learn How to Make Local Handicraft in Daxu Town (1 1/2hours)
Daxu town is 1 hour drive away from Guilin downtown, it has been an important transportation hub in Guilin in the past, and a distribution center for all kinds of important goods and materials. Trade men settle down in this town and many traditional handicrafts pass down till now.
You will then have a chance to visit a local crafts workshop and learn how to do local handicrafts. We will offer you a "One out of three" experience (about 1 hour)-- making Chinese lanterns, painting monkey mask or lion head - used for ceremonial dancing.
In Yangshuo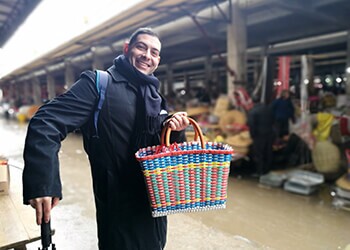 Visit Yangshuo's Countryside and Fuli Market (2 hours)
Drive through small villages in Yangshuo for experience a typical Chinese farming life, say hello to the local villagers while see them work in the farm, plowing fields with water buffalo, or you can try to work with them in farm. Then head to local market near by the village, the best way to approach local life, see what they sell, locally grows, bargain with the vender, sit by the shared table with others and taste mouthwatering food in the market.
Yangshuo Chinese Cookery Class (3 hours)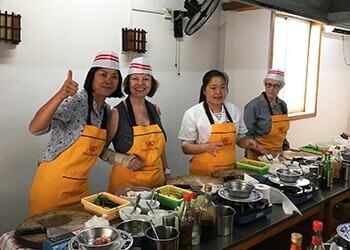 Having fun experience by participate in a cooking class in Yangshuo. Meet chief in cookery school and pick two dishes you wish learn to cook. Then accompany by the chief to local farmer's market for recognized all ingredient that use to cook.
Back to school afterward, follow the chief demonstrate each process, from how to use Chinese chopping knife to fire control. Taste the labor of fruit when finish cooking.
Farming Experience at Local Family (include an organic meal) (1 1/2hours)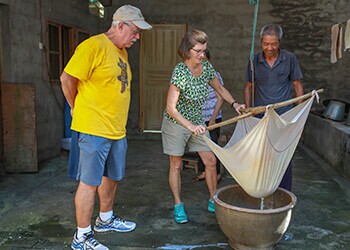 Agriculture play an important role in Guilin, doesn't like Mechanization in northern China, rural area of Guilin still planting by man and water buffalo, you will have chance to work with them in the farm, try to make Toufu by soy bean and sweet rice cake with household.
Have organic meal with the host at their yard to enjoy relaxing pace of the village.
Water Cave Exploring (3-4 hours)
The karst formation landscape formed cause the erosion of gradual retreat of the inland sea, created many towering mountains, underground cave and lakes.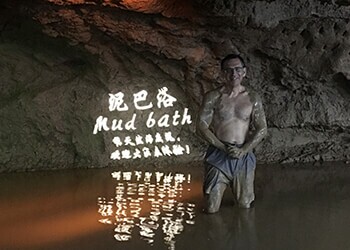 Different from well-developed tourist caves in China lit up by colorful light and well-maintained steps, the water cave in Yangshuo is a half-spelunking. Take a small sampan get into cave, and with flashlight lit up for take a close look at stalactite and stalagmite. A qualified and experienced English-speaking guide from our associated of outdoor education center will accompany you during the trip and offer you detailed information about the formations in the karst cave.
More Fun Experience in Yangshuo
2- hour Taichi or Kongfu Class
Cycling to Yangshuo Countryside
Xianggong Mountain for panoramic view of Li River
Learn Painting on a Paper Fan in Fuli
Cormorant Fishing Show
Helicopter flight on Yangshuo Yulong River
Bamboo Rafting in Yulong River
Rock Climbing
River Kayaking
In Longsheng - Longji Villages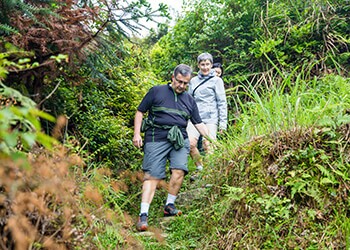 Hike in Wild Nature in Longji
Hike in Wild Nature Between Two Ethnic Tribes in Longji
Hiking in Longji villages is a unique experience to enjoy marvelous view of rice terrace, acknowledge local cultivation culture and minorities. Unlike regular track fill with tourist, hike through off-beaten track at villages are quite and only meet local villagers, you can choose 1 1/2 hours short line hike from Ancient Zhuang Village to Ping'an Village, or take a physical challenge for 5 hours hike through mountain track between Ping'an and Dazhai.
Learn How to Make Bamboo Roasted Rice from a Local Family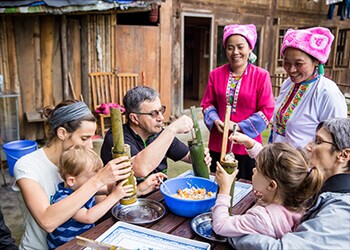 The way of get to know the real local traditions and culture by visit local family and learn something interesting from household, we offer this chance of learn how to make ethnic bamboo roasted rice by yourself, and taste labor of fruit. The host prepare all ingredient in advance and introduce each process that you can follow easily.
Learn how to make oil tea in a local family
Oil tea is an ethnic food among Longji Villages, the ingredient can be they believe it can quench thirst and move a way internal humidity in the body and keep you warm.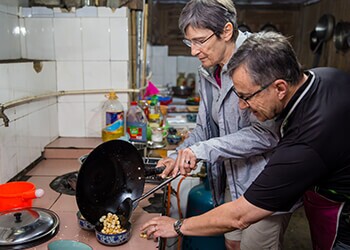 Make Oil Tea in a Local Family
Visit one of the local family, learn with them by how to cook oil tea from prepared ingredients of salt, caraway seed, green onion, fired rice procedure to fry and to eat. You can only find this activity of DIY oil tea on our company.
Learn Yao Embroidery - China Intangible Cultural Heritage
The women's traditional dress in Longji are all make by embroidery, you will introduce by a lady Ms.Pan who was Inheritor Yao Embroidery which certificate as China Intangible Cultural Heritage.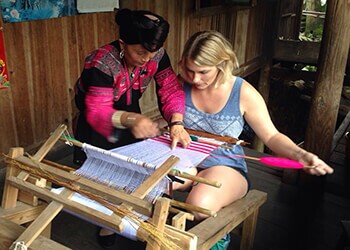 This tour is helps make this traditional embroiderer pass on her culture to the next generation. You get an opportunity to learn how they dye cloth, what's the meaning of the unique pattern they embroidery.
Tailor-made Your Guilin Holiday