Chengdu and Panda Tours
Chengdu is not only the hometown of giant pandas, but is also renowned as the land of abundance (Tian Fu Zhi Guo),  Enjoying a history of over 3,000 years and endowed with rich natural resources and  historic sites, like the Giant Buddha and Mt. Emei. Visit Chengdu to discover these things in a way you have never experienced before.
We have designed some tours to incorporate pandas and Chengdu, as below. They are all flexible and ready to be customized to meet your interests, schedule and budget. 
Experiences Chengdu Your Way
We Are Chengdu Panda Tour Experts
One-stop China Trips
Good Value and Care for
Chengdu Panda Tours
We are first travel agency in China to operate Panda Keeper Program and taking photo with pandas in 2007. The routes below are examples to help you create your own chengdu panda tour. Be in close contact with giant pandas and take care of them.
Chengdu Food Tour
Where to Find Yummy Treats?
Chunxi Street
You will find many time-honored brand restaurants located here such as Long Chao Shou (famous for meat wontons), Xiao Long Fan Da Jiang (hot pot restaurant).
Location: Jinjiang District, Chengdu 成都市锦江区
Lai Tang Yuan (Mr. Lai's Rice Balls) and Fuqi Feipian Snack Center
This 100+ year old restaurant is a Chengdu cornerstone. It's been here since Mr. Lai started selling his rice balls in 1894. You can also find the Fuqi Feipian (sliced beef organs served in a chili oil sauce) and plenty of other Chengdunese local dishes.
Location: 27 Zongfu Road, Jinjiang District 锦江区总府路27号
Zongfu Road and the City Center
Walking along Zongfu road and exploring its side-alleys will unearth a wealth of good places to eat. The area is pretty easy to find on a map, it's the area east and southeast of Wenshu Yuan (文殊院) andTianfu Square Metro Station (天府广场).
Leshan Giant Buddha Tours
Chengdu Layover Tours
144-hour visa-free transit policy is carried out in Chengdu since Jan.1st, 2019. You can travel only around the eligible areas within 144 hours in Chengdu but you are not permitted to go to other city or provincial level areas in China.
Suggested Things to do for Enriching Your Travel Experience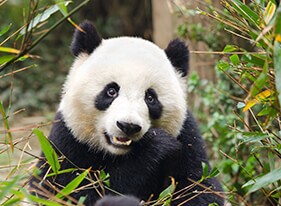 Visit Panda Base - Unmissable
Plan AGet to Chengdu Panda Breeding and Research Base: close to Chengdu city, about 50 pandas, chance to see baby panda if come in right time of the year.
Plan BJoin a panda keeping volunteer for one or two days in Dujiangyan or Wolong Panda base.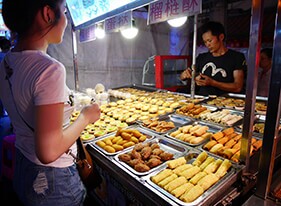 Plan AHave a meal of fiery hot pot which is mandatory for everyone in Chengdu, fill up street food in Chunxi Road, Tianfu Square.
Plan BHalf day strolling and find yummy treats in food street + half day to Sichuan Cuisine Museum for a cooking class.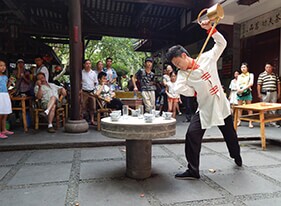 PlanChengdu tea house reflects slow-pace life of locals, there are many outdoor courtyard tea houses located in the old allays or street, the most famous one is Luming Tea House in Chengdu People's Park, while find out more options in Jinli Street and Kuan Zhai Xiang Zi. Sit down have a cup of tea, be a Chengduese.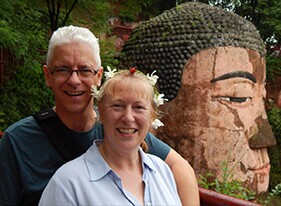 Giant Buddha - Get the Boat
Plan A Half day Chengdu Panda Breeding and Research Base + half day Leshan Giant Buddha, amazing and one of its kind.
Plan B Visit the Leshan Giant Buddha by boat (have a panoramic view of buddha) + A walking tour at an old town + tea plantation experience.
Chengdu Travel Experts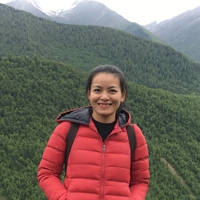 Vicky Wen
Chengdu Tour Designer
As a travel lover, Vicky explore Chengdu, panda bases and Sichuan many times. As a Chengdu tour designer, she researches Chengdu and our customers' interests for years. She excels at gathering feedbacks to improve customers' travel experiences.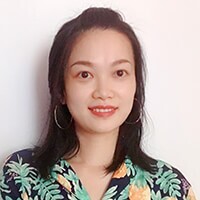 Sally Guo
Chengdu Travel Advisor
Sally Guo is a senior travel advisor, helping over 2,000 tourists create their trips. She excels at creating Chengdu tours according to customers needs and deal with emergencies.
Welcome to contact her at 800-933-7181, or email her at sally@chinatravel.com.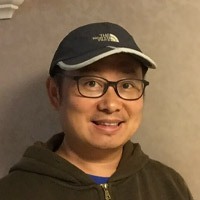 Jason Jiang
Chengdu Tour Guide
Some of our customers comments on him from TripAdvisor:
Jason, our guide, spoke excellent English, was very knowledgeable both about the Pandas and the history and city of Chengdu. He referred us to some excellent restaurants the city (& Sichuan province) is known for - hot pot and Kung Pao Chicken.
Snow Wang
Chengdu Tour Guide
Some of our customers comments on her from TripAdvisor:
1. Snow was a wonderful guide. She spoke very good English, was very friendly and gave a little insight into life in China.
2. Snow showed us the best time the Pandas and cooking. If pandas makes you feel like you've been to China you will really enjoy the journey with Snow. 
FAQ About Chengdu Tours
1. When is the best time to visit Chengdu?
Chengdu is suitable for travel all year round. Spring (March to June) and autumn (September to November) are always the most pleasant seasons, as the former is refreshing and the latter is cool.
2. When is the best time to see pandas?
3. How do you get to Chengdu?
4. What are the differences between Chengdu's giant panda bases?
5. What is Chengdu food like?
CONTACT US
Send us a message and get response within one working day! Your personal information will be totally confidential.