Jade Dragon Snow Mountain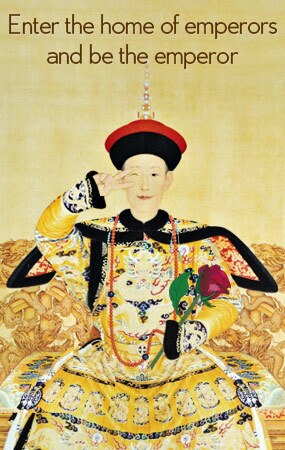 Yulong ("Jade Dragon") Snow Mountain lies about 20 kilometers north of the city of Lijiang in the northwest corner of Yunnan Province. The mountain, which covers a total area of some 400 square kilometers, stretches about 32 kilometers in a roughly north-south direction, and about 13 kilometers in a roughly east-west direction. Jade Dragon Snow Mountain faces Haba Snow Mountain, with Tiger Leaping Gorge - and at its bottom, the Yangtze River, aka Jingsha River here in its upper reaches - barely separating them.
Historical Background
Jade Dragon Snow Mountain was known as "The Holy Dragon Snow Mountain" as early as the Tang (CE 618-907) Dynasty. It was called "Northern Yuefei" (Yuefei, or Yue Fei, being a reference to the famous Southern Song (CE 1127-1279) Dynasty general who was the paragon of bravery and loyalty) by Yi Mouxun, the King of Nanzhao Kingdom. Li Jing, an official during the Yuan (CE 1279-1368) Dynasty who had been transferred from Hejian (present-day Hebei Province) to Yunnan also wrote a poem in honor of Jade Dragon Snow Mountain. Xu Xiake, a renowned writer and traveler during the Ming (CE 1368-1644) Dynasty also thought highly of Jade Dragon Snow Mountain. The mountain received special mention in the writer's book entitled Famous Mountains of the World, published during the early part of the Qing (CE 1644-1911) Dynasty.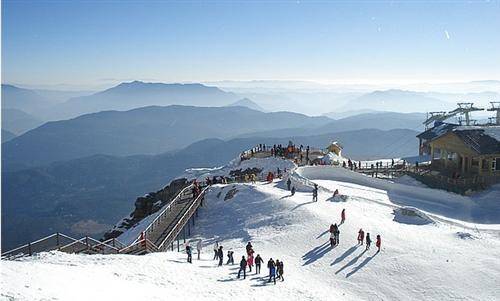 Jade Dragon Snow Mountain
During the period 1922-1949, which spanned the Second World War, the Austrian-American explorer, geographer, linguist and botanist, Joseph Francis Charles Rock spent most of his time in the area of Yunnan, Sichuan, and Gansu Provinces, and in neighboring Tibet, studying the peoples of the area, their languages, and the flora of the region. During this period Rock lived for a spell at the foot of Jade Dragon Snow Mountain studying the local Dongba Culture and the flora of the mountain.  Two of Rock's most important works are The Ancient Nakhi Kingdom of Southwest China, in two volumes, and A Nakhi-English Encyclopedic Dictionary.
A 'Modern Museum of Glaciers'
Jade Dragon Snow Mountain is known especially for its snowy peaks, but the mountain is also famous for its several forest-clad slopes (including rain forests) as well as lower-altitude gentle hills and meadows with an abundance of streams. Its glaciers are the lowest-latitude (i.e., closest to the equator) glaciers in the Northern Hemisphere. All of Jade Dragon Snow Mountain's 13 peaks attain an altitude of more than 5000 meters. The mountain's highest peak - and the second-highest peak in Yunnan Province - Shanzidou Ding ("Fan Peak"), reaches an altitude of 5596 meters, and is snow-clad year round. In spite of several attempts, Fan Peak remains unscaled.
Jade Dragon Snow Mountain is a treasure trove of flora and fauna. In China the mountain is alternately called "The Natural Garden of Animals and Plants" and "The Modern Museum of Glaciers". The highest peaks of Jade Dragon Snow Mountain are often hidden behind cloud banks, or enshrouded in fog and mists, which imparts its own mysterious character to the mountain, but when the snow-capped peaks of the mountain stand naked in the bright sunlight, the mountain's beauty is fully revealed, its main peak appearing deceptively accessible.
There are some excellent ski slopes on Jade Dragon Snow Mountain, where skiing is possible 365 days a year. The slopes of the Four-Seasons Ski Resort are located at an altitude of some 4500 meters. Access to the resort is by cable car.
How to Get There?


There is a regular bus that services Jade Dragon Snow Mountain from the city of Lijiang, which, in peak tourist periods, can be filled to capacity. An alternative possibility is to take a tour bus from a hotel in Lijiang. The itinerary is Ganhaizi - Baishui River - Yunshan Meadow. From Yunshan Meadow skiers can take a ski lift/ ropeway up the mountain. The fare for the ski lift/ ropeway is 22 yuan each way [not everybody skis :)], and the fare for the tour bus is 47 yuan, round trip. As indicated, you can take a closed cable car up the mountain to the Four-Seasons Ski Resort. The fare is a whopping 165 yuan, round trip, but it offers a spectacular view. A third way to get to Jade Dragon Snow Mountain from the city of Lijiang is to go on horseback, which will take an hour or so and will set you back 30 yuan.
Recommended Lijiang Tours:
For an authentic travel experience, contact one of our travel advisors. Our local experts are always ready to create a hassle-free tour for you.