Guilin Food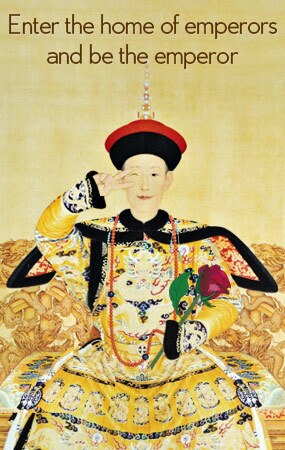 Overview
Guilin food is a mixture of Cantonese cuisine and Hunan-style cuisine. The food in Guilin has a sour and spicy flavor. Sugar and peppers are widely used into a lot of dishes while the spicy flavor is delicate. Food in Guilin is mainly adopted the Stir-frying and steaming cook ways. Fish and rice noodles play an important role in people's life in Guilin. 
Guilin Snacks
Guilin Rice Noodles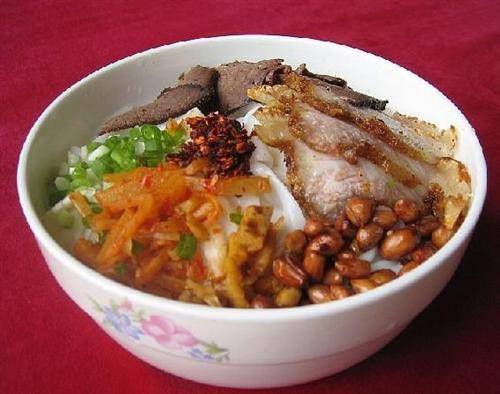 Guilin rice noodles (Guilin Mifen) are the most famous and popular local staples. Usually, people in Guilin tend to eat it in the morning. Guilin Rice Noodles are consisted of fresh rice noodles, gravy, meat and fried soybeans or peanuts. Scallion in pieces, chili, and pickled condiments such as pickled bamboo or beans with a spicy taste are added into the rice noodles depending on people's tastes. Horseflesh rice noodles is the most special rice noodles among the rice noodles. Guilin rice noodles are a cheap and delicious staple.
Casserole meal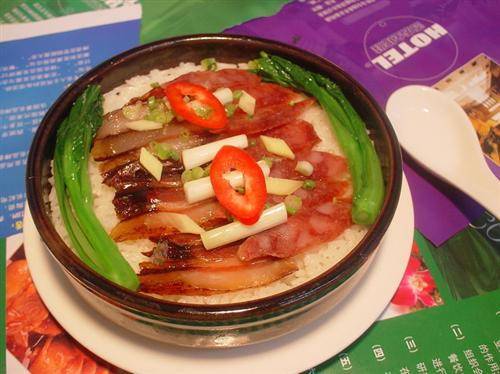 Casserole meal (Shaguofan in Chinese) is a very common meal for an ordinary person in Guilin. There are several eating styles of casserole meals. One is that the rice is well cooked in the casserole and people can order the cooked vegetables and meat. There is another option that people go to the restaurants and order the uncooked meat, then the restaurants start to cook the polished rice and the meat people ordered. This Casserole meal takes a longer time.
Oil-tea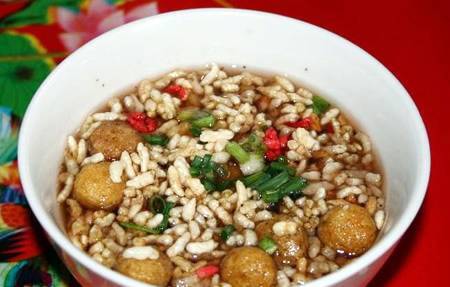 Oil-tea is a specialty in Guilin loved by the ethnic minorities including Miao, Yao and Dong in this area. Gongcheng (a county in Guilin) oil-tea is the most famous one in Guilin. The oil-tea is consisted of some spices, frying tea leaves and water which has a medical function. People like to drink the oil-tea and eat cereal ball in the morning.
Guilin Dishes
1.
Yangshuo beer fish (Yangshuo Pijiu Yu)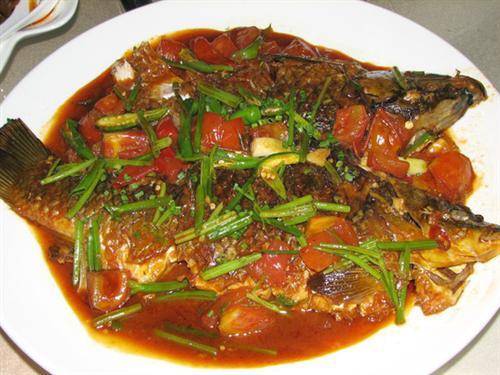 Yangshuo beer fish is an authentic Guilin dish which is famous at home and abroad. The fish for this meal is caught from the clear Li River. The fish and fresh vegetables are cooked with beer which is brewed by local people. Although the delicious dish is with bones, it comes up to people's must-eat list in Yangshuo.
2.
Lipu steamed Pork with Taro (Lipu Yutou Kourou)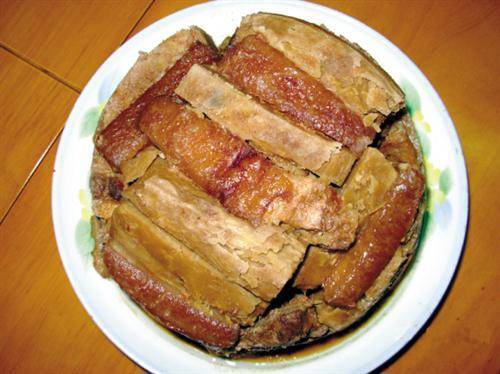 Lipu steamed pork with Taro is a well-known Guilin traditional dish which is usually served at important celebrations such as weddings. This dish is composed of streaky pork with skin and taro. The cooked streaky pork and taro are steamed with some condiments such as chill sauce, sugar, wine.
3.
Steamed Li River Fish (Qingzheng Lijiang yu)
The fish from the Li River is famous for its tenderness. This dish is adopted steam cooking style to maintain its tenderness. To eat with a special sweet sauce can make the steamed fish more delicious.
4.
Stuffed Li River Snails (Yangshuo Niang Tianluo)
Stuffed Li River Snails is consisted of fresh snail meat, chopped pork with some sauces. The mix meat tastes a delicate spicy.
5.
Stewed Duck with Gingko (Baiguo Dun Ya)
It is a common home-made dish in Guilin while it is still popular in the restaurants. The old duck and gingko (baiguo) are rich with nutrition. This soup also has a medicinal function. Stewed Duck with Gingko perfectly has a nice fragrant of the gingko and tastes delicious.
6.
Stewed Chicken and Gecko (Gejie Dun Quanji)
A whole young chicken, two fresh geckos and some ham with a few lichees compose the precious dish in Guilin. The Gecko is quite difficult to get which makes the dish more valuable.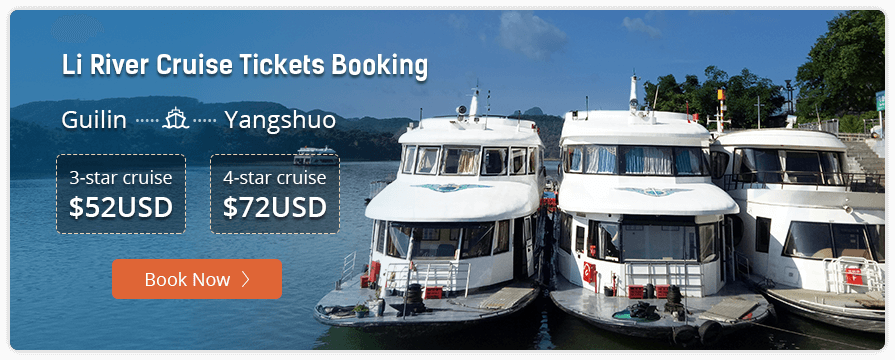 Recommended Guilin Tours:
For an authentic travel experience, contact one of our travel advisors. Our local experts are always ready to create a hassle-free tour for you.