Biking in Yangshuo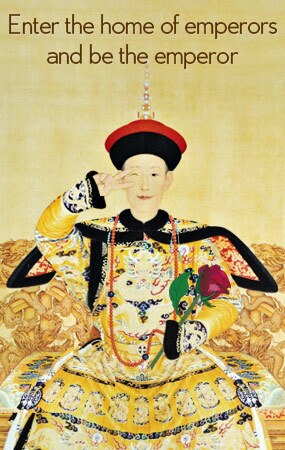 The ancient villages and Karst limestone hills in Yangshuo attract thousands of travellers at home and abroad. Yangshuo County, about 60 kilometres far from Guilin city in Guangxi province, has become a popular bicycle base in China. A peaceful countryside journey makes people escape from the boisterous urban cities. Numbers of people head to Yangshuo to explore the beautiful countryside scenery by bike. Jumping on a bicycle and pedalling through the gorgeous landscape in Yangshuo has been fashionable since 1980s. To cycle through the fantastic scenery in Yangshuo comes into millions of people's must-visit lists.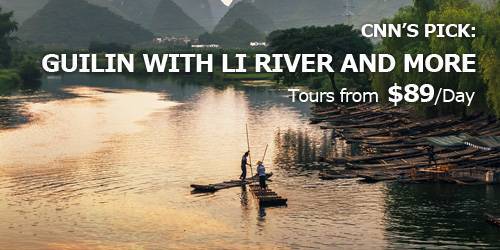 The bicycle service develops so well that all types of bicycles are easy to rent at a cheap price. Plenty of Chinese style bikes, tandem bikes, mountain bikes and high quality Giant or Merida bikes are offered in bicycle rentals. It is convenient for a family as well because a child can sit on the back of the tandem bike or rent a child-size bike. The price for a bicycle is from 5 to 40 CNY per day, but a special higher quality bike might need more money. Totally, to rent a good quality bicycle at a very low price is quite common in Yangshuo. There are 4 popular bicycle routes to explore the gorgeous landscape in Yangshuo. All routes start from West Street (Xi jie) and take a half-day or a day on the basis of different travel plans and paces.
The Biking Routes:
Route one: Yangshuo - Big Banyan - the Moon Hill - The Moon Hill Village - Jianshan Temple - Yan Village - Tianjia River - Yangshuo
It is the most classical way with the best landscape, bucolic scenery and pictures of cowboys with buffaloes. The journey is relax and suitable for general physical travellers. Cycling along the highway from Yangshuo to Lipu for 20 minutes, you will see the Gongnong Bridge. The beauty of the scenery around Gongnong Bridge is outstanding. A village which is the best place to see the Moon Hill exists on the left side of the Moon Hill. There are a lot of family hotels and restaurants offering lunch. And a little shop in Yan Village sells a variety of beverages. The sunset in Tianjin River is very attractive during the journey.
Route two: Yangshuo - Gunning Bridge - the Riverside Villa - Yangshuoshengdi - Tongmenyan - Fenglou Village - the Moon Hill - the Big Banyan – Yangshuo
The tour is basically around the Big Banyan and doesn't need too much energy. The Riverside Villa is rebuilt from a pumping station where many rafts stop along the Yulong River. It is a good place to enjoy tea and beautiful scenery. To cross the dam of the river, you will get Yangshuoshengdi where to have a lunch. Besides, Tongmenyan attracts a large number of rock climbers around the world.
Route three: Yangshuo - Full - Chelan Hill - Xing ping - the Stone City - Patio - Yangshuo
This trip lasts two days and need a high level physic condition. The countryside scenery is excellent while the path between Xingping and Patio is so difficult that rare travellers take this route. Both Chinese and Western food are offered near the pier in Xingping where there is an old street to visit. The small hotels are clean and tidy with a price between 20 to 50 CNY near the pier as well. It is a brilliant idea to rest in Xingping and start the next day's journey from Xingping.
Route four: Yangshuo – Gongnong Bridge - Yangshuoshengdi - Jima – Old County – Xiangua Bridge – Yulong Bridge– Baisha - Yangshuo
The journey is totally 30 kilometres with a splendid landscape. The trip is a difficult classical route and needs a high level physical and spirit condition. The whole trip lasts 5 to 6 hours and some paths are too narrow to ride a bike. There are two options to come back to Yangshuo- go to Baisha and keep riding along the highway or take the raft along the Yulong River to Gongnong Bridge.
Location:

 It is in Yangshuo County, about 60 kilometres far from Guilin city in Guangxi province.
Ticket Price:

The price for a bicycle is from 5 to 40 CNY per day, but a special higher quality bike might need more money. 
Opening Hours:

A whole day
More Tips:
The quality of bikes should be checked before you rent. A latest detailed tourism traffic map and a good physical condition are necessary. A suitable speed to bike is important and riding a bicycle for less than 7 hours is appropriate. To bring a hat and some water is wise to do. Try to ride with a companion as possible in case you need some help. Spending 10 to 20 CNY hiring a local guide might be convenient. Besides, a Chinese cooking class is another interesting activity to take in Yangshuo County.
Recommended Guilin Tours:
For an authentic travel experience, contact one of our travel advisors. Our local experts are always ready to create a hassle-free tour for you.