Top Shanghai Water Towns
Among a great many ancient water towns near Shanghai, travelers usually only choose one or two to visit, mainly based on their crowdedness, sightseeing features, air quality and levels of commercialization. Among local people, Nanxun and Tongli near Suzhou, and Zhujiajiao near Shanghai, are the most popular.
An ancient Chinese saying goes: "In heaven there is paradise, on earth there are Suzhou and Hangzhou". Water towns are indispensable parts of the enchanting scenery of Suzhou and Hangzhou. They are all easily accessible from the biggest metropolis in China, Shanghai.
The towns share hundreds of years of history, scenery typical of Chinese ink-paintings, traditional houses built on waterways, ancient stone-paved arched bridges and interesting folk customs; while each retains its own unique attributes.
Water Towns Briefing
People would confusing which water town is the best to go if they are first time visit, here we list water towns sort by its identification, which would help you make a good plan.
Other China Water Towns near Shanghai
Water Towns Distinctive Features - How to Decide Which One to Visit?
Water town
Raking
Different
Visiting time
Cost of entrance tickets
Transport from
Tongli
Well-preserved, lots to see, our top town in 2016, 360 customers booked with us.
4 hours
CNY100/person
Shanghai: 2h
Suzhou: 35min
Nanxun
The most affluent town in the past, featuring Chinese and western architecture.
4 hours
CNY100/person
Shanghai: 2h
Suzhou: 1h
Hangzhou: 1 1/2h
Xitang
Mission Impossible III was filmed here
4 hours
CNY100/person
Shanghai: 2h
Suzhou: 50min
Hangzhou: 2h
Wuzhen
Large –scale Qing dynasty architecture is well-preserved
7 hours/2 days
CNY100-120/person
Shanghai: 2h
Hangzhou: 1h
Zhujiajiao
Foodies paradise
4 hours
Free (but it costs extra for the sites in the town)
Shanghai: 50min
Luzhi
Wide array of museum and temples
4 hours
CNY78 (but it costs extra for the sites and gondolas in the town)
Shanghai: 1 1/2h
Suzhou: 50min
Zhouzhuang
Local wealthy and influential family-Zhang and Shen family
7 hours or 2 days
CNY100
Shanghai: 2h
Suzhou: 1h
Mudu
A collection of private gardens
4 hours
Free (but it costs extra for the sites in the town)
Shanghai: 2 1/2h
Suzhou: 30min
Fengjing
Historical sites and relics
4 hours
Free (but it costs extra for the sites in the town)
Shanghai: 3h
Suzhou: 1 1/2h
Qibao
Little old street with not much to see
1 hour
Free (but it costs extra for the sites in the town)
Shanghai: 30min
Water Town Culture Experience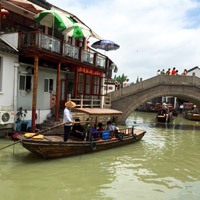 Gondola ride
Must-do in water towns
The boat ride on the canal was a highlight of your water town trip, you can find out in most if the water towns, it was great to sit and relax as you went past the town going about its everyday life, along with ancient arch bridges, teahouses, and stop for a cormorant fishing demonstration.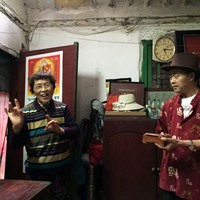 Visit a local family
Get to know the real life in water town
To acknowledge a city, the most efficient way is to meet locals, if you visit Tongli, your guide will arrange a visit to Ruanamei family, listen hosts singing the folk songs for welcome guests, sit sown have a cup of tea, chatting with the host about their life and the town in the past.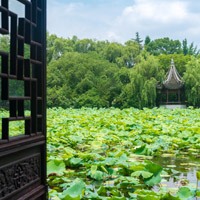 Classical private gardens
Icons of cities in South Yangtze Dealta
Chinese private garden is the simple of power and fortune, and also the good taste of its owner. It was built for the demanded of high quality of life, A mix of pleasant Chinese gardens and tranquil water and pavilions, very pretty peonies, peach blossom trees, bonsai, wisteria, & shrubbery.
Travel Tips
1. Distance if travel from Shanghai
2. Best Time to Go
March to October is the best time to visit the water towns, for the weather is quite comfortable. Winter is also fine, for there are fewer tourists, the towns are less crowded and you can expect some tranquility. It's great to escape the big city and see a little of the ancient architecture and local culture.
7. Scenic Sites in the Towns