Travel in Typhoon Season in China
China is one of the countries most affected by typhoons in world. Every summer and autumn typhoons hit the southeast coast of China and coastal cities often become targets of typhoon landing. This page lists facts, warnings and tips for travelers who want to travel in China's typhoon season.
What Is a Typhoon?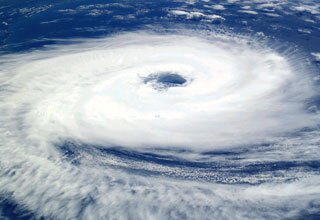 Tropical Cyclone (Eye of a Typhoon)
Typhoons share the same weather phenomenon with hurricanes, both of which refer to tropical cyclones with wind speeds of 33 m/s or more. In the Western Pacific they are called typhoons while in the Eastern Pacific and Northern Atlantic called hurricanes. Typhoons often occur with heavy rains, sometimes devastating storms and floods. Flights are usually canceled in typhoon weather.
Note: Many flights to and from mainland China go through Hong Kong, which is one of the worst-affected cities by typhoons, so connecting flights through Hong Kong can affect your China travel during typhoon season.
When Is Typhoon Season in China?
Typhoons may occur any time from May to December. Usually July to September is China's main typhoon season, especially September.
Where Do Typhoons Occur in China?
Typhoons often occur in southeast coastal provinces in China. According to the intensity we can distinguish four areas of different levels of risk: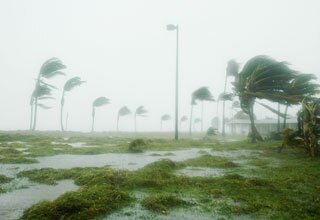 Areas with High Typhoon Risk
Areas with high typhoon risk: Hainan Province (Haikou and Sanya), coastal Guangxi, Guangdong (Guangzhou and Shenzhen) and Fujian provinces, Hong Kong and Macau
Areas with medium risk: Zhejiang Province (Hangzhou), Shanghai and coastal Jiangsu (Suzhou)
Areas with low risk: Shandong Province and northern coastal areas
Generally no risk: Inland China
How to Travel in China's Typhoon Season
It is not a problem to travel China in typhoon season if you're prepared. Typhoon weather can last for hours or even days, but sometimes the sun shines again right after rains and winds- which often offers great views.
1. Choose a destination among the low/no risk area
China is a vast country and as mentioned above, most inland areas have almost no risk of typhoon:
1) Northwest China: the Silk Road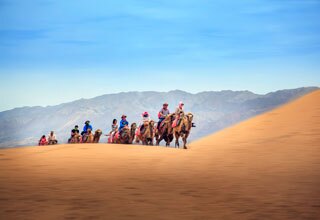 China's Silk Road starts from Xi'an in the east and goes west to the Pamirs. It was the land gateway to trade and cultural exchanges between the East and the West from the 1st century BC to the 14th century in ancient China and is a world-famous historical and cultural heritage today.
Traveling along the Silk Road, you can get far away from typhoon weather and admire the thousand-year-old ancient capital- Xi'an, the Rainbow Mountains in Zhangye, the landmark Mogao Grottoes, along with magnificent desertscapes up to Urumqi.
2) Adventurous Holy Land: Tibetan Region
Tibet is located on the Qinghai-Tibet Plateau known as the "Roof of the World", with an average elevation of more than 4,000 meters- it faces no danger from typhoons. Everyone knows Tibet has the world's highest peak, Mount Everest, but the holy Potala Palace in Lhasa, the idyllic landscapes in Nyingchi, the heavenly Nam Co Lake are also worth a visit. Try our Classical Tibet Travel.
3) Southwest China: Yunnan Province
Yunnan is a unique place gathering more than 20 minority ethnic groups of China. It also boasts all kinds of natural and cultural landscapes: the strange Stone Forest in Kunming, the mysterious Lugu Lake and traditional ancient towns in Lijiang, the tranquil Dali and fairyland Shangri-La. You should not miss a Yunnan in-depth experience tour.
2. Buy yourself a travel insurance
Travel insurance can protect you from financial losses when your trip suffers any negative changes due to typhoon weather, for example, your hotel needs to be closed or your flight/train is cancelled. Make sure your insurance covers all the risks of typhoon.
3. What to pack for typhoon weather
Just like traveling in rainy season, you need waterproof clothes and shoes. Quick-drying shirts and trousers are also ideal for typhoon season, as well as a thin windbreaker.
4. Strictly keep your eyes on the weather warning!
Delay or cancel your travel if there's weather warning. In case of inclement weather, pay close attention to radio, television and news on your phone. If a typhoon hits the area, make sure your shelter can withstand possible heavy rains and winds and your food can last a day or two. It'd better to have portable radios, flashlights, batteries and candles ready.
5. Learn China's four typhoon warning signals
The China Meteorological Administration uses four typhoon warning signals, which are broadcast for the public when a typhoon approaches:
Signal blue: A typhoon may come within 24 hours with strong winds of 22 mph (39 kph) or higher. It is a warning to keep alert and flights and bullet trains may be delayed or canceled.
Signal yellow: A typhoon with winds of 34 mph (62 kph) or higher is coming in 24 hours.
Signal orange: A typhoon is expected to arrive in 12 hours with gale winds of 48 mph (89 kph) or higher. It warns the public to close schools and business and prepare their home or stay where they are as safe as possible.
Signal red: It is predicted a typhoon with winds of 64 mph (118 kph) or higher may hit the area within 6 hours. A signal red is the most severe and the rarest, with devastating force.
Travel in China's Typhoon Season with Us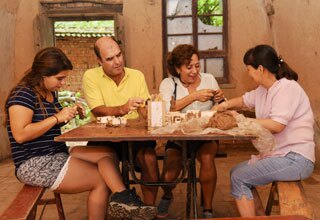 Traveling China in typhoon season with us, our experts will change your itinerary to minimize the bad effects of possible storms when a typhoon alert affects your travel and adjust your destinations accordingly when you are already in a typhoon-attacked area. Explore China with us and we can make your trip a carefree and memorable experience. Below are some popular China tours in/out of typhoon areas:
China Experience Trip: Beijing, Shanghai, Xi'an
Water Town and Yellow Mountains Tour: Shanghai, Suzhou, Hangzhou, Huangshan,
Giant Panda with Holy Tibet: Shanghai, Chengdu, Lhasa, Xi'an, Beijing