Top 7 Spring Destinations in China
China in spring, for most areas, comes with vibrant blossoms and comfortable temperatures. Get rid of your heavy winter clothes, pick one or two or more destinations and make full use of this good season to travel. Maybe you will meet some surprising sceneries.
1. Beijing – A Train Through the Spring Great Wall
Known as "the most beautiful train in Beijing", Beijing Suburban Railway Line 2, or the S2 Train for short, is famous for viewing the lovely spring scenery along the route running through Badaling Great Wall and Juyong Pass. Local people call it "a train bound for spring".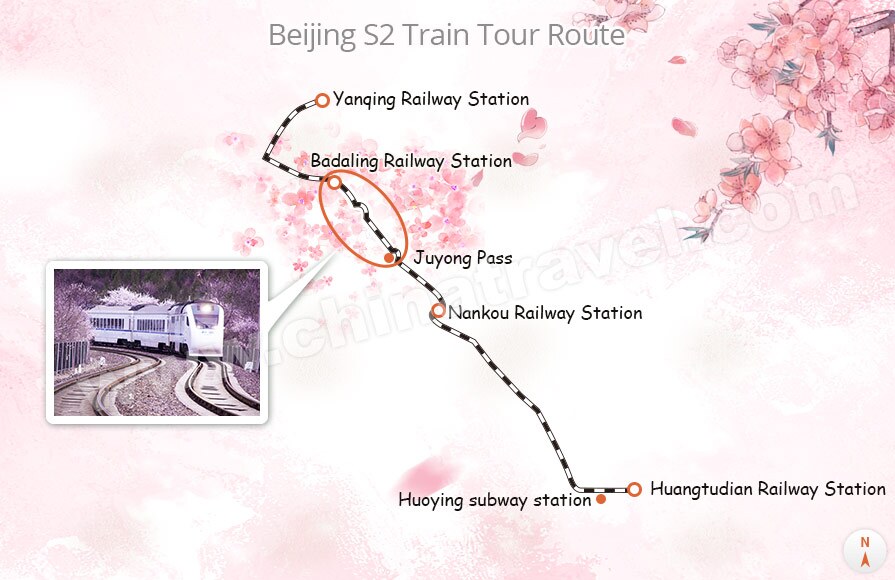 The train connects two sections of the Great Wall but there's no station at Juyong Pass, one of the three most important passes of the whole Ming Great Wall. If you want to see the unique view of the train running through mountains and flowers with the Great Wall in the background, get off at Badaling Station and head to Juyong Pass by bus. Find the best viewing point at Juyong Pass and wait. As long as a train comes, what comes into your sight is like the romantic picture when the Japanese Kyoto train enters the Sakura Sea.
Best time to visit: from the last 10 days of March to the first 10 days of April.
Recommended visiting time: 1 day
Where to get the S2 train: arrive at Huoying (霍营) metro station by metro line 8 or line 13 and then walk from Exit G4 to Huangtudian (黄土店) Station.
S2 train schedule: It leaves every 83 minutes from Huangtudian Station from 7:46 to 21:04.
How to get to Badaling Great Wall by S2: get off at Badaling (八达岭) Station with a cost of 8 yuan and taking about 1 hour.
How to get to Juyong Pass: get off at Badaling Station and then take a free shuttle bus to a parking lot by and change to bus No. 879. Get off after 4 stops and you'll be there.
Private tour with us: Create your S2 train spring journey with us.
2. Hangzhou – West Lake and Tea-Making Experience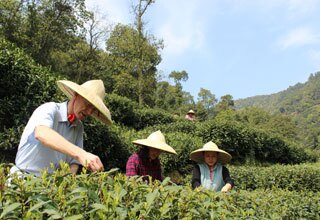 Some believe Hangzhou has the best spring scenery within the Yangtze Delta, for not only its refreshing air and new-green willows along the West Lake but also its busy season to make green tea.
Meijiawu Tea Village is a tea planation is the origin of one of the best teas in China- West Lake Dragon Well Tea. And we, chinatravel.com, cooperate with local tea farmers and provide visitors a unique tea culture experience. It will give you a chance to enjoy the whole process of Chinese traditional tea-making: picking, stir-frying, drying, and making a cup of green tea. After this activity, our guide will lead you to a local restaurant hiding in the village, for tea cuisine.
Best time to visit: March, April, May
Recommended visiting time: 1-2 days
Must-try spring dishes in Hangzhou: any dish with bamboo shoots or tea.
Transportation within Hangzhou: convenient by subway, taxi or tourist bus.
Private tour with us: Essence of Hangzhou Tour
3. Suzhou – Chinese Gardens and Water Towns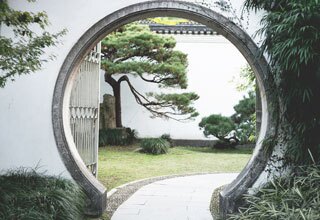 There is a famous saying in China: "there is paradise in heaven and we have Suzhou and Hangzhou on earth." For centuries Suzhou has been renowned for its over 100 Chinese classical gardens and the Humble Administrator's Garden boasts the most representative one. When spring comes the bonsais in the garden will be awakened and full of vitality.
Tongli Water Town is another reason to visit Suzhou. It is a laid-back ancient town where you can enjoy a leisurely gondola ride along its waterways and experience its well-preserved ancient buildings and local culture.
Best time to visit: March, April, May
Recommended visiting time: 1-2 days
Transportation within Suzhou: convenient by subway, taxi or tourist bus.
Private tour with us: Suzhou and Tongli Day Tour from Shanghai
4. Dali – Blooming Blossoms and Minority Culture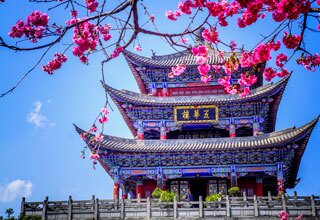 Beautiful Weather and Blossoms in Dali
Blessed with Cangshan Mountain and stunning Erhai Lake, Dali has a beautiful spring, with blue skies, green fields, golden rape flowers, red peach blossoms and pink sakura. If these overflowing colors are not enough to charm you, how about its unique March Fair?
There are 25 minority ethnic groups living in Dali, of which Bai Nationality has largest number, and the March Fair, or March Street Festival is their most important tradition. With a thousand years of history, March Street is the oldest fair in western Yunnan. Every year from the fifteenth to twenty-first day of the third lunar month (usually in April), the Bai people gather and trade in the day and sing and dance at night.
Best time to visit: April
Recommended visiting time: 2-3 days
Transportation within Dali: It is recommended to rent a bike or electric scooter when touring in Dali.
Private tour with us: Yunnan Discovery Tour (Kunming-Dali-Lijiang-Shangri-La)
5. Xi'an – When Long History Meets Blooming Flowers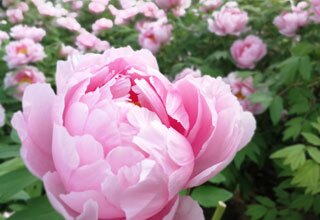 Spring is best season to visit Xi'an, when it's warm, dry, sunny and colored with flowers. Skip the routine Terracotta Army, what makes the most of spring in Xi'an include the Ancient City Wall, Big Wild Goose Pagoda Scenic Area, and Qinglong Temple:
Find a spring day and walk or ride on the Ancient City Wall of Xi'an, you will view the ancient city lying with thousands of years of history and lovely blooming flowers.
People who travel to Xi'an will not miss Big Wild Goose Pagoda, but very few know that Peony Garden, southeast of the pagoda, provides beautiful scenery with peonies in full bloom in spring.
Qinglong Temple, built in 582, is another must-go for a spring travel in Xi'an. At the end of March each year, it will be full of pink and red cherry blossom.
Besides, an excursion from Xi'an to see peonies galore in Luoyang, to experiencing breath-taking hiking in Mt. Hua, or strolling around the Ancient City of Pingyao is also a smart idea.
Best time to visit: March, April
Recommended visiting time: 3-4 days
Transportation between Xi'an and its attractions: convenient by subway, taxi or tourist bus.
Private tour with us: Xi'an Experiencing Tour with Mt. Huashan
6. Wuyuan – Rape Flowers Blooming in Terraced Fields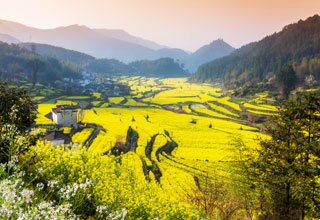 Known as "the most beautiful village in China", Wuyuan in spring is a colorful and pastoral Chinese brush painting, with golden rapeseed fields, misty mountains and ancient Huizhou architectures with white walls and dark roofs.
The attractions of Wuyuan are scattered so usually there are three tour routes - the East, North and West. If your time is limited,
Huangling (篁岭) in the east is a must-visit, where you can enjoy a visual feast of rape flowers blooming in the vast terraced fields and unique old residences lying in a sea of flowers.
Best time to visit: 15th March – 15th April
Recommended visiting time: 3-4 days
Location: Wuyuan County, Shangrao City, Jiangxi Province
How to get to Wuyuan (婺源): 1) take a shuttle bus from Jingdezhen Luojia Airport to Licun (里村) Bus Station in downtown Jingdezhen; 2) from Licun Bus Station take a tourist bus to Wuyuan.
Other Options: by train- directly to Wuyuan Railway Station; by intercity bus from Nanchang, Huangshan or Shanghai.
Transportation between Wuyuan and its attractions: Local transportation is not very convenient so the recommended ways to tour Wuyuan are self-driving and biking.
Private tour with us: Wuyuan & Huangshan Tour (Hangzhou-Yellow Mountain-Wuyuan)
7. Nyingchi – Peach Blossom Wonderland of Tibet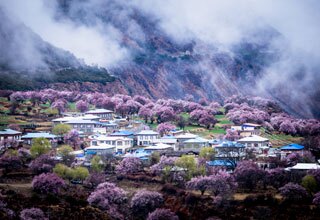 Tibet has always been known as the Roof of the World but Nyingchi, or Linzhi, located in southeast of Tibet, is an "oddball"- the lowest altitude here is only 900 meters (the average altitude of Tibet is 4,000 meters)!
In Nyingchi, visitors can admire the gorgeous landscapes of the Yarlung Zangbo Grand Canyon and Namcha Barwa and learn how the Monba and the Lhoba (two Chinese minority ethnic groups who mainly live in southeast of Tibet) grow rice. But what makes the place stand out is that there is a 30-kilometer-long ravine with colorful peach blossoms blooming in spring.
Best time to visit: 15th March – 15th April
Recommended visiting time: 4-5 days
Tour route: Chengdu/Chongqing-Nyingchi-Lhasa
Transportation: The transportation to and around Nyingchi is bad and unfriendly for visitors so it is recommended to travel by private car or with a travel agency.
Private tour with us: Contact us if you need help when planning your private Nyingchi journey.
Avoid Labor Day Crowds!
China's Labor Day holiday usually lasts three days- from May 1st to 3rd, which is also a peak period for people to travel. So do not plan your journey to China during these days, otherwise you might get overwhelmed by tourist crowds. Besides, flights, bullet trains and hotels are often in short supply.
Experience China in Spring with Us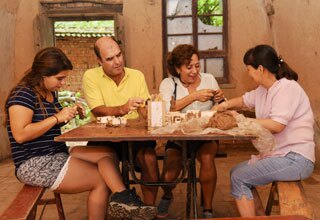 Chinatravel.com is a professional and experienced travel agency who wants to help you create a unique and memorable tour, full of oriental beauty and pleasurable experiences. Check our hot-sale tour packages and make your own trip: