Find Your Chinese Zodiac Sign
Choose your date of birth and find out about your Chinese zodiac sign.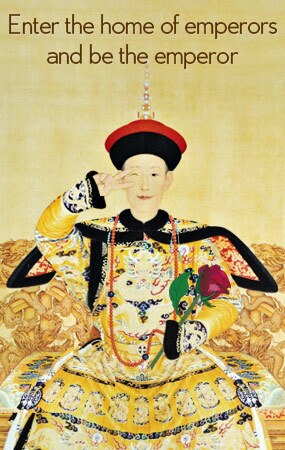 The Chinese Zodiac
2020 is the Year of the Rat, beginning from 2020 Chinese New Year on January 25 and running to 2021 Lunar New Year's Eve on February 11.
What is the Chinese zodiac? Known as Sheng Xiao (生肖) in China, the zodiac consists of the 12 animal signs designated to the 12 earthly branches in China, including Rat, Ox, Tiger, Rabbit, Dragon, Snake, Horse, Goat, Monkey, Rooster, Dog, and Pig. Each of the animal signs is related to the Chinese lunar calendar- which means, the year of an animal sign starts from Chinese New Year, based on a twelve-year cycle.
Chinese Zodiac Animal Signs
Zodiac signs have close ties with the way the Chinese people's daily and social lives are lived. It is believed that the personality and destiny of people born in a certain year is affected by that year's animal. Click the following zodiac animals to know their strengths, weakness, love compatibility and lucky things.
NB: The years above are Chinese calendar years, starting at Chinese New Year.
Chinese Zodiac Love Compatibility
Chinese zodiac compatibility is an important component in love and marriage for Chinese people. Those whose characteristics match each other well can be a good partner in traditional Chinese culture. But if their characteristics did not match each other well, their parents won't agree them to marry with each other. Because, in ancient china, people think that people whose characteristics do not match well will be harmful to each other.
| | | |
| --- | --- | --- |
| Zodiac Animal | Best Match | Worst Match |
| Rat | Ox, or Dragon | Horse, Goat, or Rooster |
| Ox | Rat, Snake, Monkey, or Rooster | Tiger, Dragon, Horse, or Goat |
| Tiger | Dragon, Horse, Dog, or Pig | Ox, Tiger, Snake, or Monkey |
| Rabbit | Goat, Monkey, Dog, or Pig | Dragon, Snake, Horse, or Rooster |
| Dragon | Rat, Tiger, Snake, or Rooster | Ox, Rabbit, Goat, or Dog |
| Snake | Ox, Dragon, or Rooster | Tiger, Rabbit, Snake, Goat, or Pig |
| Horse | Tiger, Goat, or Dog | Rat, Ox, Rabbit, or Horse |
| Goat | Rabbit, Horse, or Pig | Rat, Ox, Dragon, Snake, or Dog |
| Monkey | Ox, or Rabbit | Tiger, or Pig |
| Rooster | Ox, Dragon, or Snake | Rat, Rabbit, Rooster, or Dog |
| Dog | Tiger, Rabbit, or Horse | Dragon, Goat, or Rooster |
| Pig | Tiger, Rabbit, or Goat | Snake, or Monkey |
Below is a zodiac compatibility chart between different animal signs.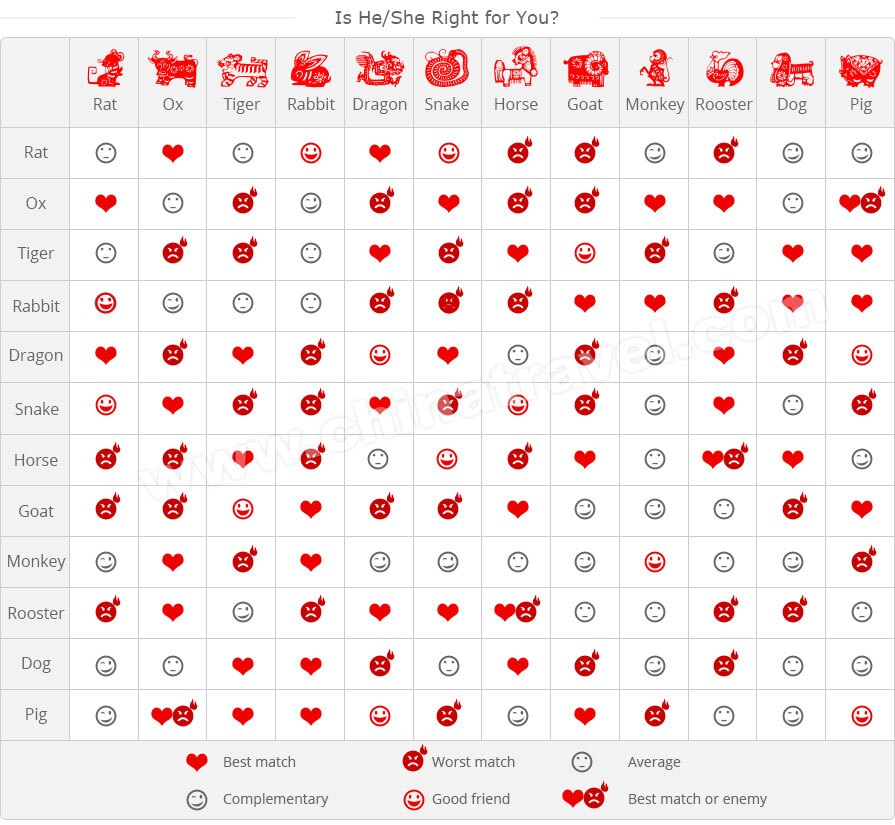 Chinese Zodiac Order and Story
Why the current order of the animal signs? There are 3 main explanations, approaching the mystery from vastly different angles.
1. Legend
A folk story is one of the most popular ways to explain development of the Chinese zodiac culture.
According to legend, the Yellow Emperor (huangdi, 黄帝) wanted to select 12 animals to be his palace guards. The cat asked the rat to help it sign up, but the rat forgot its promise, so the cat wasn't included. Thereafter, the cat and rat were enemies.
The elephant also wanted to join the palace guard, but the cunning rat entered only its trunk, to limit its chances. As for other animals, the ox was originally first, but the rat climbed up its head and the pig tried to follow. As a result, the rat became the first of the animal signs while the pig became the last.
As the Mountain King and Ocean King respectively, the tiger and the dragon were not satisfied to be listed behind the rat and the ox. The rabbit also felt it was unfair, so it raced the dragon and successfully came ahead of the dragon.
At that moment, the dog also felt outraged by the unfair situation, so it bit the rabbit. Unfortunately, the dog was then punished by becoming the penultimate sign. The snake, horse, goat, monkey, and rooster later all found their zodiac positions after participating in this dramatic competition.
2. The Ancient Explanation of 12 Hours of Day and Night
In ancient China, each day was divided into 12 shichen (时辰)and each shichen was the equivalent of 2 hours today. People in ancient days named each shichen according to the 12 animals of the Chinese zodiac.
| | | |
| --- | --- | --- |
| Animal Sign | Hours | Description |
| Rat | Zi Shi 子时, 23:00–1:00 | Rats are active during this time. |
| Ox | Chou Shi 丑时, 1:00–3:00 | Oxen are used to grazing at night. |
| Tiger | Yin Shi 寅时, 3:00–5:00 | Tigers hunt prey. |
| Rabbit | Mao Shi 卯时, 5:00–7:00 | Rabbits like to eat grass with the morning dew, as light emerges. |
| Dragon | Chen Shi 辰时, 7:00–9:00 | It's often foggy at this time, and dragons ride the clouds and mount the mists. |
| Snake | Si Shi巳时, 9:00–11:00 | Snakes go out for food. |
| Horse | Wu Shi 午时, 11:00–13:00 | Wild horses like to run and neigh at noon. |
| Goat | Wei Shi 未时, 13:00–15:00 | This is the best time for goats to eat grass. |
| Monkey | Shen Shi 申时, 15:00–17:00 | As sunset approaches, monkeys moan. |
| Rooster | You Shi 酉时, 17:00–19:00 | Roosters go back to their henhouses. |
| Dog | Xu Shi 戌时, 19:00–21:00 | Dogs are responsible for guarding the households at night. |
| Pig | Hai Shi 亥时, 21:00–23:00 | Lazy pigs do nothing but eat and sleep, day and night. |
3. The Categories of Yin and Yang for the Twelve Animals
The ancient Chinese believed that the 12 animal signs of the zodiac are divided by yin and yang into 2 categories. In addition, they thought that odd numbers belong to yang while even numbers belong to yin.
The number of toes on most animals is generally the same on all feet. However, the rat has 4 toes on its forefoot, and 5 on its back foot. Odd numbers with even numbers of toes on the same animal is rather rare. Hence the rat ranks first.
Zodiac Animal

Toes per Limb

Odd/Even

Yin/Yang

Rat

4 front, 5 back

even and odd

yin and yang

Ox

4

Even

yin

Tiger

5

Odd

yang

Rabbit

4

Even

yin

Dragon

5

Odd

yang

Snake

0

Even

yin

Horse

1

odd

yang

Goat

4

even

yin

Monkey

5

odd

yang

Rooster

4

even

yin

Dog

5

odd

yang

Pig

4

even

yin

In total, there are 6 animals with odd numbers of toes, placing them in the yang category, and another 6 creatures with even numbers of toes, belonging to yin.
Introduction to the 12 Animals
We list all the 12 zodiac animals with detailed information, if you want to check out which animal sign you or your parents or your kids belong to:
Experience Chinese Culture with China Travel
Wanna take a tour to know China better and experience more? China Travel will help you create a China tour for you based on your needs and requirements which can save your time, money, and trouble. Feel free to tell us your tour ideas!