Silk Road
Silk Road refers to the ancient trade route starting from ancient China and connecting Asia, Africa and Europe.
It has Silk Road and Silk Road on the sea. What people today usually talk about is the Silk Road from Xi'an City and ends in Europe while passing Gansu Province and Xinjiang Uygur Autonomous Region in China.
Quick Facts
Name: Silk Road
Length: Total more than 4350 miles (7000 kilometers) with 2485 miles (4000 kilometers) in China
Location:: From Asia to Europe passing through China, Kazakhstan, Kyrgyzstan, Tajikistan, Uzbekistan, Turkmenistan, Afghanistan, Iran, Iraq, Turkey, Greece, and Italy.
Chinese Provinces Along Silk Route: Shaanxi, Gansu, Qinghai and Xinjiang
Major Attractions Along Silk Route:

| | |
| --- | --- |
| Cities | Attractions |
| Xi'an | |
| | |
| | |
| | |
|   | |
| Lanzhou | Bingling Thousand Buddha Caves |
|   | Maiji Caves |
| Dunhuang | Jiayuguan Pass of Great Wall |
|   | |
|   | Dunhuang Yadan National Geological Park |
|   | Jiayuguan Pass of Great Wall |
| Turpan | |
|   | |
| Urumqi | |
| | |
| Aksu | Kizil Thousand-Buddha Caves |
| | Subashi Ruins |
| Kashgar | Kashgar Bazaar |
Opened up by Zhang Qian in Han Dynasty (206 BC-220 AD), the Silk Road is a key terrestrial international trade route between Asia and Europe. It stretched 4350 miles from Xian to Europe, passing through 12 countries, and now successfully inscribed as a World Cultural Heritage by China, Kazakhstan and Kyrgyzstan. The road was opened to promote communications with European countries in diplomacy, business and culture.
It was named the 'Silk Road' by Ferdinand von Richthofen, an eminent German geographer. There are 33 historical sites and natural landscapes along the road in total, which 22 of them distribute in Shaanxi, Henan, Gansu and Xinjiang of China. When travelling along silk, you will feel like walking to the ancient China.
Highlights Along The Silk Road
The Silk Road is another gate to get a deep insight of Chinese culture. Here you will be shocked by the stunning natural landscapes, mysterious historical site, huge cultural shock of different areas and colorful lifestyles of ethnic minorities. When walking along the Silk Road, you can sense how ancient businessmen transported commodities to Western countries and brought back fabulous music, dance, paintings, etc. The trip will be full of surprises and definitely be an unforgettable experience.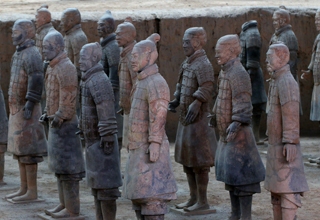 Located in Xian, Terracotta Army is a large collection statues of warriors and horses. It's estimated that there are more than 8000 terracotta warriors, 130 chariots with 520 horses aand 150 cavalry horses. All these warriors and horses are life-size and vivid, varying in height, uniform, facial expression and hairstyle. The Terracotta Army was built as protection for Emperor Qin in his afterlife. It's listed by UNESCO as one of the greatest archaeological sites and the world eighth largest miracle.
The Museum of Qin Terra-cotta Warriors and Horses was available to the public both at home and abroad on October 1, 1979. Now Pit 1, Pit 2 and Pit 3 are all for exhibition. In all there are seven kinds of soldiers and the soldier kneeling fire is the one of the most popular and famous one in Pit 2.
Located in Dunhuang, Guansu, the Magao Caves is also known as the Thousand Buddha Grottoes. Firstly built in 366AD and went through erosion and man-made destruction, now there are about 600 surviving cave temples, of which 30 are open to the public. Among them, the "Library Cave", discovered in 1900, contains more than 50000 sutras, documents and paintings. These precious relics are of great historical and scientific value. Wall paintings and sculptures are rich in diversity, including pavilions, towers, pagodas, palaces, courtyards, towns and bridges. All providing valuable information for the study of Chinese Buddhism culture and architecture.
If being with a guide who knows the history, culture and stories of the caves well will be absolutely a fascinating experience.
Dunhuang Yadan National Geological Park
Located about 180 km from Dunhuang City, Dunhuang Yadan National Geological Park covers an area of 346 square meters. Knows as Ghost City, it is composed of group of wind-eroded barren grotesque hillocks and varied forms of topography. Strange-shaped hillocks look like animals, personal images, pagodas, temples, buses and boats. Those are vivid and spectacular, remarkable true to the real. When trekking among these wonderful boundless natural masterpieces, you will feel as if you were in a museum of architectural works.
Known as "the eye candy of Zhangye", Zhangye Danxia landform is in Guansu. It is the biggest and best Danxia landform in China, containing lots of precipitous red cliffs and colorful rocks, some of which are several hundred meters tall. The landform is formed because of years of weathering, wind and water erosion. There are two distinctive areas for visiting: Color Hills Scenic Area ( featuring the bright and contrasting colors), Binggou Scenic Area (famous for its bizarre forms).
Jiaohe Ruins is a big ancient ruined city, 10 km away from Turpan, Xinjiang. Once as the capital city of Jushi State, it is the largest and oldest earth building ancient city which has been best preserved through the centuries. There is not a single wall to guard this ancient city, but made by digging the lofty platform, an leaf-shaped plateau between two deep river valleys. There are lots of buildings, temples, streets and pagodas, most of which were built in Tang Dynasty.
Yumenguan Pass
Also named Jade Gate Pass, Yunmenguan Pass is located on the endless desert, 56 miles from Dunhuang. Together with Yangguan Pass, it is the two crucial gateways for transporting products to central China and Central Asia. It is a rectangular castle standing in the Gobi desert and the well-preserved body of wall was built with stable loess. It has lost its historic function for a long time, but its charming historical atmosphere still attracts thousands of visitors.
Sunday Bazaar
The best place to experience authentic culture of Uygur minority is visiting a Sunday Bazaar (大巴扎). Bazaar refers to market in Uygur language. Grand Bazaar is traditionally held on Sundays, such as famous Urumqi International Grand Bazaar and Kashgar Sunday Grand Bazaar. When visiting Grand Bazaar, you can purchase a great variety of products at a reasonable price, such as daily commodities, handicrafts, livestock, local specialties, vegetables and garments. Foreign merchants also bring lots of goods for selling, like arts and crafts of Pakistan, carves of Turkey and dry fruits of Saudi Arabia. Kashgar Sunday Bazaar, is the biggest market in Central Asia.
Popular the Silk Road Trips
Want to get know the history of Silk Road? Plesee see our more popular silk road experience and cultural trips to explore this ancient wonder:
We have developed some special activities along silk road route, including to discover a mysterious place to have a close experience with visiting local village. Contact us if you want to add these activities to your itinerary.