Most Popular Articles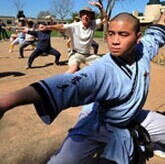 Chinese Kung Fu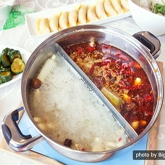 Chinese Food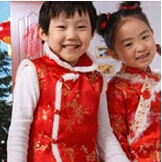 Chinese New Year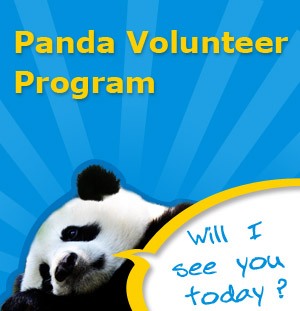 Places to See and Hug
Sichuan is definitely the hometown of Giant Panda. If you want to see or even hug a giant panda, Chengdu, the capital of Sichuan is of course the best place. There are some zoos in other China cities raising giant pandas. But if you want to hug panda, go to Chengdu is almost the only choice. 
Top Places to See
1. Chengdu Giant Panda Breeding and Research Base
Chengdu Giant Panda Breeding and Research Base in the suburb of Chengdu is a very popular place to see giant panda. There are about 50 pandas living in the base. You will see giant pandas, baby pandas and red pandas.
The Research Base is fully equipped. It shows many practical specimens of the Giant Panda, including fossils, dissected anatomical remains, diet specimens, etc. The Museum also has many large zoology scope-enclosures exceeding an area of 300 square meters. You will know the details about Giant Panda's evolve history, ancient and current distribution and their general situation.
Recommended Panda Tours

1 Day Panda Tour & Chengdu Highlights: See adorable giant pandas and baby pandas.

5 Day Chengdu Panda Tour: You will see adorable giant pandas, visit Leshan to see Giant Buddha and Mountain Emei to see Golden Pagoda.

Location: On the Futoushan Mountain in the outskirts Chengdu city
Get there: Take No. 902 sightseeing bus at the Xinnanmen Bus Station and get off at the Giant Panda Breeding and Research Base. Every 20 minutes, there is a bus head to the base. The drive takes about 40 minutes.
Recommended Visiting Hours: half a day
2. China Conservation and Research Centre for the Giant Panda, Dujiangyan Base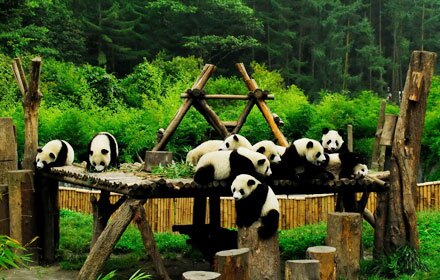 Dujiangyan Giant Panda Base is 50 kilometers from Chengdu downtown area. There are about 10 giant pandas and 80 red pandas there.
 

Highlights of and Differences of

Place

Giant Panda Breeding and Research Base

China Conservation and Research Centre for the Giant Panda, Dujiangyan Base

Panda Population

50

20

Baby panda

Yes — between August and December

         All pandas are 1 year old and above — in future baby pandas may be seen

Activites

See baby and adult pandas

Panda Keeper Program

Environment

Like a zoo

 Natural and wild

Social Structure

Pandas are live socially.

Adults pandas there keep their wild nature and like living solitary.

Distance

40 minutes' drive from Chengdu.

1.5 hours' drive from Chengdu.

Timed Needed

At least half day.

1 day

Visitors

more visitors after 10 a.m.

less

Note: Pandas give birth to babies in July and August, so there is a chance to see baby pandas when you visit Dujiangyan Giant Panda Base from August to December. In Dujiangyan Panda Base, visitors may also see some pandas that have had several years' experience in other countries, such as a panda named Tiger who once lived in Washington DC.
3. Bifengxia Giant Panda Base
Bifengxia Giant Panda Base is the largest giant panda base in the world. There are more than 80 pandas living there. Bifengxia Giant Panda Base was built in 2003 and it is located in Bifengxia Scenic Area. The base is used for panda breeding, and endangered animal saving and science popularization.
Recommended Panda Tour

1 Day Chengdu Bifeng Giant Panda Base Panda Visit: you can interact with cute pandas.

Location: Ya'an Prefecture, 150 km (93mile) from Chengdu
Get there: Take bus at Xinnanmen Bus Station to Bifengxia for about 3 hours.
Time Needed: 1-2 days
4. Beijing Zoo
Beijing Zoo was built in 1906. It is the biggest city zoo in China with a lot of rare creatures from all over the world. Penguin House and Panda House are the must visit attractions and they are also the most popular houses there. Transportation to the zoo is very convenient.
Recommended visiting hours: 4 hours.
Openning hours: 7:30-18:00 from April 1 to October 31; 7:30-17:00 from November 1 to March 31
Address: No. 137, Xizhimenwai Street, Xicheng District, Beijing