Tibet Visa
Tibet Entry Permit (or Tibet Visa) is a necessary entry pass to Tibet for every foreign traveler- in addition to a mainland Chinese visa. It is not allowed for foreigners to travel to Tibet independently, so you need to find a China-based travel agency to organize your tour and apply for the Tibet Visa for you. The following information can help visitors get Tibet Entry Permits and travel successfully in Tibet.
Who Needs a Tibet Visa
Foreign travelers (non-Chinese passport holders)
Taiwanese, who don't have a valid China Identity Card
Overseas Chinese who do not have Chinese passport
Remarks: Hong Kong and Macau residents who hold Chinese SAR passport or "Permit to Traveling to and from Hong Kong and Macau" do not need a Tibet Entry Permit.
How to Get Your Tibet Visa
It is not allowed for foreigners to apply for the permits and travel in Tibet independently, so to get a Tibet Visa, you need to:
1. Find an approved China-based travel agency, like China Travel, to help you arrange your Tibet tour. Your tour itinerary must be presented on the permit.
2. Send the photocopies of your passport and China visa to your travel agency at least 20 days before departure.
3. You must receive your Tibet Entry Permit before your departure.
Note: Ordinary travel agencies have no authority to apply for the Tibet Travel Permit for diplomats, government officials, journalists and professional media photographer. They can only travel to Tibet under the arrangement of the Foreign Affairs Department, Economic Development Committee, and the like.
Tibet Visa from Nepal – Group Visa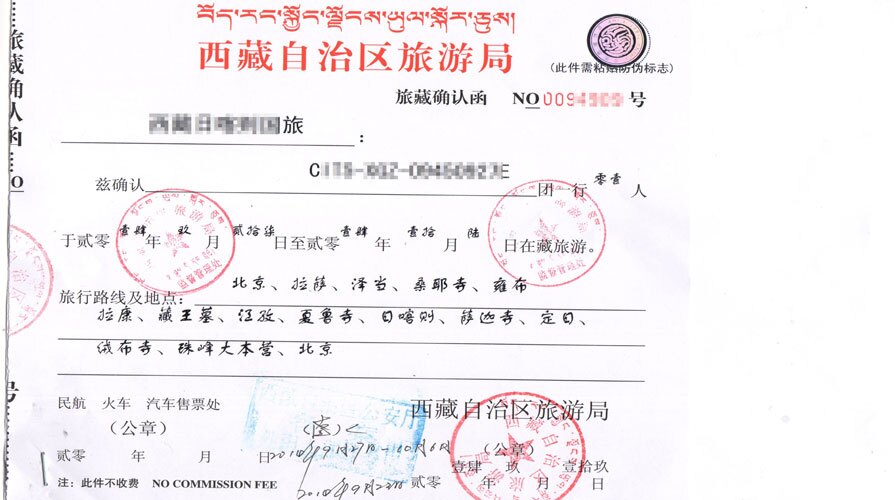 Tibet Visa (Group), listing travel duration and travel route
Requirements and restrictions for entry into Tibet from Nepal:
Apply for a group visa at the Chinese Embassy in Nepal. (Travelers who hold individual tourist visas + Tibet Entry Permits can only enter Tibet through mainland China.)
The group must have at least 5 members with no more than 2 nationalities.
The validity of the group visa is determined by the itinerary, with a maximum stay of 30 days. If you want to visit other areas of China after Tibet, you need to include them in your group tour arrangement when applying for the visa.
It takes three working days to obtain a visa from the Chinese Embassy in Nepal and the Embassy's working hours are from Monday to Friday, except for public holidays.
Passengers of Middle Eastern countries and those who have recently been to the Middle East cannot apply for the group visa. You need to apply for a Chinese L visa in your home country in advance.
Note: Middle-Eastern countries include Saudi Arabia, Iran, Iraq, Kuwait, UAE, Oman, Qatar, Bahrain, Turkey, Israel, Palestine, Syria, Lebanon, Jordan, Yemen, Cyprus, Egypt, Libya, Tunisia, Algeria, Morocco, Madeira, Azores Islands.
Extra Tibet Permits Will Be Needed If You Travel Outside Lhasa
There are 3 kinds of the permits to Tibet including the Tibet Travel Permit (Tibet Visa), Aliens' Travel Permit, and Military Area Entry Permit. The Tibet Visa allows you to enter Tibet and visit Lhasa's attractions including the Potala Palace, Sera Monastery, Jokhang Temple, etc. but if you want to visit the restricted areas outside Lhasa, for example, Everest Base Camp, extra Tibet permits will be needed.
Alien's Travel Permit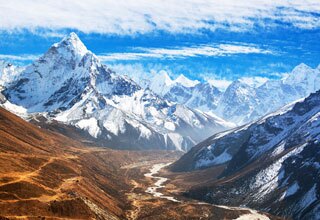 The Aliens' Travel Permit needs to be applied for with your original passport and Tibet Visa after you enter Tibet; it is the must-have permit to visit the following restricted areas:
Shigatse: Sakya Monastery, Mt. Everest, Rongbuk Monastery
Gyangtse: Pelkor Chode Monastery, Kubum Stupa
Tsetang: Samye Monastery, Tomb of Tibetan King, Trandruk Temple, Yumbulakhang
Nyingchi: Basum-tso, Pomi, Rawo-tso
Military Area Entry Permit
Bome, Lhoka, and Ngari are also sensitive regions in Tibet, which require a Military Permit to visit. But it is rarely used as only a few special tours involve those places. A passport and Tibet permit are the documents required to apply for the Military Permit- which is only issued by the Military Office in Lhasa. Usually, applying for the Military Permit takes one or two weeks.
Tips for Traveling in Tibet
1. Tibet is located on the Qinghai-Tibet Plateau, known as the "Roof of the World", with an average elevation of over 4,000 meters, so prepare some medicine for altitude sickness.
2. The Tibet Visa will be checked at train stations/airports/hotels.
3. The best time to visit Tibet is June-August.
4. It is recommended to pack your luggage with warm clothing, sunglasses, lip cream, sun cream, and comfy walking shoes.
5. Tibetan people have their own traditional festivals when there will be a lot of festive activities and customs. The most important ones include Tibetan New Year and Shoton Festival. Check Local Celebrations in Tibet for more information.
Enjoy One-Stop Carefree Tibet Tours with China Travel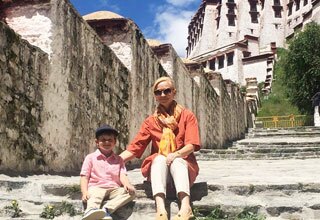 There is more than just Mt. Everest in Tibet. Buddhist culture in Lhasa, Mount Kailash in Ngari and the three "holy lakes"- Yamdrok, Manasarovar, and Namtso, are also worth a visit. Contact us to get professional trip advice on Tibet travel and start your once-in-a-lifetime journey!
Get More Information about China Visa
For an authentic travel experience, contact one of our travel advisors. Our local experts are always ready to create a hassle-free tour for you.