Latest FAQs about China Visa
Recently, we've received lots of emails from customers to enquire about the changes in the China Visa situation. We have collected some FAQs from the Chinese embassy's websites and several travel forums. The following information is what we have compiled .
1. Can I apply for a Chinese visa online?
No, you can't submit the application electronically. For one thing, the consular officer needs your passport to put the visa in it.
It is possible to download the visa application online.
If you are eligible for the China Online Visa Application system (visit http://cova.cs.mfa.gov.cn to check first), you can fill in the application form and print it out to submit it at your nearest visa application center. If not, you need to download the newest China Visa Application Form from the official website of the Chinese Embassy or Consulate of your country. Fill in and print it out. For example, if you are a USA citizen, you can download the application form from Embassy of the PRC in the USA.
2. There are only options for "family" and "given" names on the online application form. How to add a middle name?
You can put it in given name section. For example, if your name is "John James Smith", Family Name: Smith, Given Name(s): John James.
3. I will be traveling to China on company business and I will also meet my friends in China. What type of visa is most appropriate for me?
If you travel to China on multiple purposes, you may submit your application based on your main purpose and provide supporting documents accordingly.
4. Can I get a visa to China in Hong Kong?
Yes. Foreigners who hold ordinary passports are requested to submit visa applications via Chinese Visa Application Service Center. Information of the Center is as follows: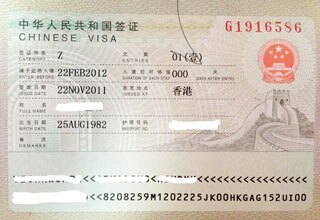 Address: 20F Capital Centre, 151 Gloucester Road, Wanchai, Hong Kong
Telephone: (852) 29921999
Fax: (852) 34132345, (852) 29891116(Chinese Visa Application Service Center)
Email: hongkongcenter@visaforchina.org
Website: http://www.visaforchina.org
Working Days: Monday to Friday (except for Public holidays).
Submission of Applications: 9:00-16:00 (Applications for express service must be submitted before 12:00); Payment and Pick-up of Visas: 10:00-17:00.
Service Charges: Besides collecting visa fees and express service fees on behalf of the Commissioner's Office, the Chinese Visa Application Service Centre will also charge service fees. For more information, please contact the Chinese Visa Application Service Centre or visit its website.
Notes:
1) It is still up to the Commissioner's Office to decide whether or not to issue visa, the China Visa Application Service Center has no decision on visa approval.
2) Applicants holding diplomatic or service (official) passports,  and/or applicants who are going to enter China Mainland for diplomatic or official purpose may still submit their applications directly to the Consular Department of the Commissioner's Office.
5. Is a China visa valid in Hong Kong?
No. Hong Kong is a Special Administrative Region of China and has its own visa policy and regulations. That is, a Hong Kong visa does not work in mainland China and a China visa does not work in Hong Kong. But nationals of about 170 countries/regions may visit Hong Kong without visa. Just check the list.
6. Can I get an invitation letter from your company for my visa application?
Yes, if you book a tour with us, we can send you an invitation letter with our company seal when you apply for a China visa.
7. What if I need to overstay in China?
You need to extend your visa if your stay is beyond the duration of your visa, which is required to be made to the local Public Security Bureau before the expiration date of the visa. Documents to apply for a visa extension include valid passport and visa, a passport-sized photo and a completed visa extension application form containing the reason for the extension.
8. What should I do if I lose my passport during my stay in China?
You should report the loss to local Public Security Bureau as soon as possible and go to your country's embassy or consulate in China to apply for a replacement passport or travel document with a stamped proof of your residency issued by your hotel. After your new passport is issued (usually two working days later), you must go to the local Public Security Bureau to apply for a new visa.
9. Is it possible to travel to both Beijing and Shanghai without visa?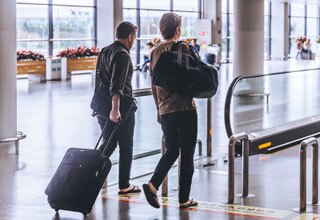 Generally, no. China's visa-free policy is not trans-regional. The 144-hr visa-free transit in Beijing and 144hr-visa-free transit in Shanghai should be separate. Upon the policy, travelers are only allowed to travel in and around the permitted area, i.e. US-Shanghai-HK is an eligible flight route while US- Shanghai-Beijing-US is not.
However, if you separate your trip into different sections to match both visa-free policies in BJ and SH, you might make it possible. Here's a sample itinerary to travel to both Beijing and Shanghai without visa:
Fly to Shanghai from the US and enjoy four days trip there;
Depart Shanghai on a cruise first stop in South Korea and then to Tianjin, Beijing and leave China to Japan.
Get More Information about China Visa
For an authentic travel experience, contact one of our travel advisors. Our local experts are always ready to create a hassle-free tour for you.