One-Day Chengdu Highlights Mini Group Tour (Maximum 6 people in a group)
Chengdu is not only home to the Pandas, but also foodie's paradise, the fast growing speed of the city didn't washed out the local culture and traditions, you still can see lots of tea house in the park where locals spend their spare time there.
About This Tours
Duration: 8 hours
Skip the Line
Availability : Depart on every Monday, Wednesday and Friday.
Group Number: minimum of 6
Guide Language : English
Easy Cancellation : Up to 7 days before departure: 100% full refund; 3 to 7 days before departure: 90% refund; Within 3 days before departure: no refund
What To Expect
Thoughtfully– selected Panda Base for ultimate your travel experience: for more time spend with pandas and not waste time on queue up, we beat time of the day and less crowded for visit on different season.
Insightful experience for a hot pot feast – with two types of soup spicy and non-spicy and variety ingredient of meat and vegetables.
Opportunity to interact with Locals in People's Park- unique culture and leisurely lifestyle still well observed, sit down have cup of tea in tea house, enjoy an earwax-cleaning services, stroll around the match-making part of the park and acknowledge marriage situation in China.
Tour Itinerary
8:00-9:30
Hotel pick up, and head to Chengdu Panda Base
Meet your guide/driver at hotel lobby at appointed time in the morning (usually before 8am), the guide/driver holding a Trippets banner (our group tour logo) or your name sign so that can easily recognize each other.
Good to Know:
1. Your guide will contact you the night before tour for confirm the pick-up time and appointed place for the next day's trip. If you don't receive a call or our email from us, please call us +86-773-286-5632 at 7/24 assistant.
2. The location of hotel collection and drop-off should be within the 3rd Ring Road of Chengdu. For hotel far beyond the 3rd ring, you need to hire a taxi to the appointed hotel which your tour guide will tell you the day before the trip.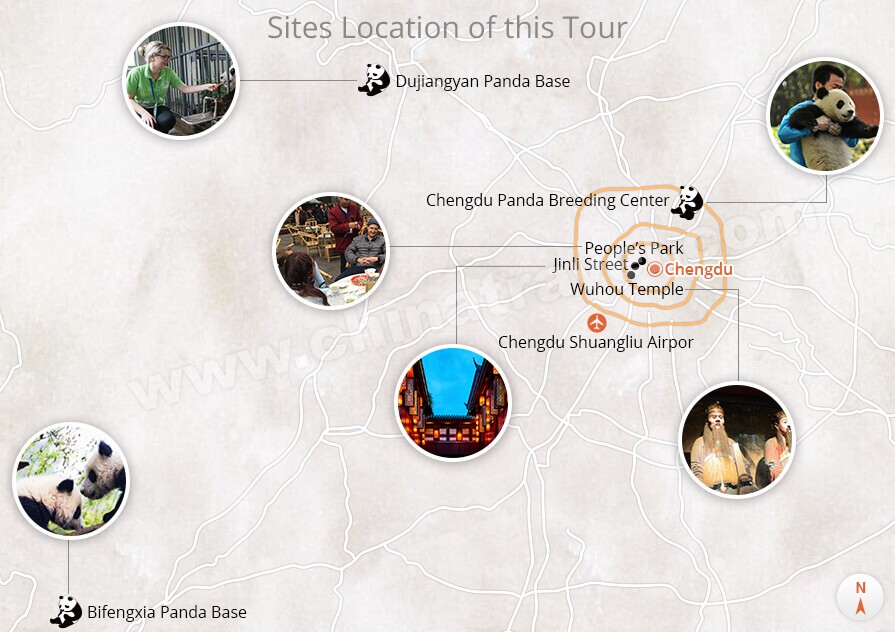 Sites Location of This Tour
Firstly, we go to the Panda base, they are active in the morning, and you can see them outdoor. We will choose one of the panda bases nearest Chengdu to visit.
9:30-11:00
Visit Panda Base
Get close to see the adorable pandas outdoor or inside enclosure, eating, playing or taking a nap. Also, learning pandas' daily life from eating habits, living condition and how is newborn panda babies grow to be an adult panda. Also you get chance to see newborn panda babies
we choose three panda bases due to the time constraints, they are Chengdu Panda Breeding Base, Dujiangyan Panda Base, Bifengxia Panda Valley, and will visit one of them for the day.
Good To Know
We will visit Chengdu Panda Base where you may have a chance to see cute newborn panda babies.
We DO NOT offer the photo-with-pandas program, in order to protect both visitors and pandas. According to government rules and regulations.
Panda volunteer programs not include in this tour.
Please DO NOT use flashlight, especially for the baby pandas, their eyes are sensitive with strong lights, it may hurt them.
Please DO NOT feed them or making noise loudly when get close to pandas.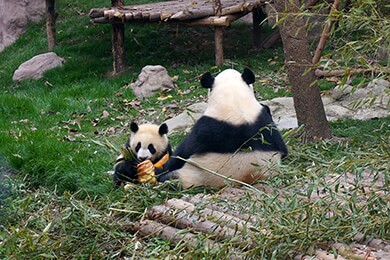 Adorable Pandas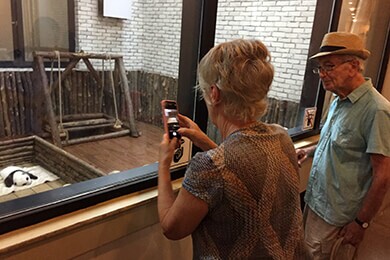 Get close to see newborn panda
11:00 – 13:00
Drive to Chengdu and Enjoy a Hot pot Lunch at a Local Chengdu Restaurant.
After Panda tour, it is time for lunch, we arrange a famous Sichuan hot-pot restaurants for customers - Shujiuxiang Restaurant. Don't miss hot-pot when travelling to Chengdu. Don't eat spicy food? Don't worry, we order two types of flavor: spicy and non-spicy. Meat and vegetables cooked in a simmering pot of soup stock. Almost all the ingredients you can think of can be cooked in a hot pot, your guide will help and give you recommendations of what to order.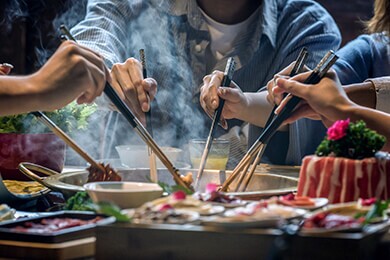 Eating hot pot with chopstick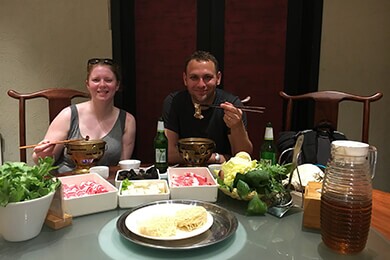 Hot pot lunch
13:30 – 14:30
Visit a Local Chengdu Opera Tea House,take a visit to the Backstage.
People in Chengdu gather get to see Chuan Opera in tea house every day, this as a part of their lifestyle especially for elder generations. They meet friends there and enjoy the performance. Everything was so cordial. You get to visit one of the opera houses, sit beside local people, tasting a cup of tea and enjoy the show. Want to know what happen in the backstage? You get a chance to see how the actors and actress's makeup, dress up and rehearse.
Good to Know
Can I understand what they sing? The stage play telling the story of daily life, or Heroic poems with local dialet. Your guide will give you an brief explanation of the stage show.
Can I try on the opera costums if I interested? Yes, You can also pay 128 yuan per person to try on opera costumes and do a opera makeup (this experience are optional, would be on your own expense)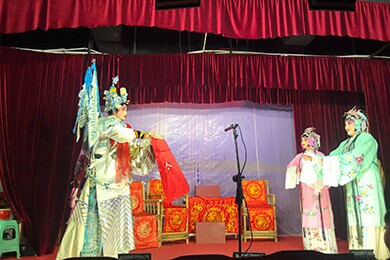 Sichuan Opera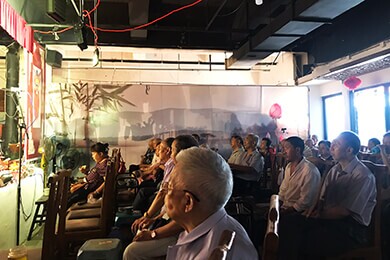 Audiences in the tea house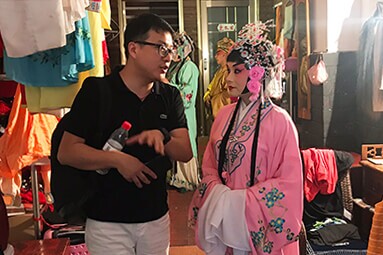 visiting backstage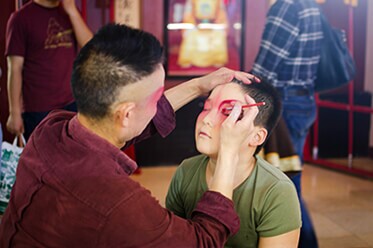 Make up for the performance
14:50–16:30
Head to Chengdu People's Park for Explore Local Lifestyle
get to see what people here do locally for fun, stroll around and I am sure you will intrigued by the match-making part of the park, people gathering in tea houses, drinking tea, playing mahjong, and you will see an traditional skill of earwax-cleaning, pay extra for try if you interested.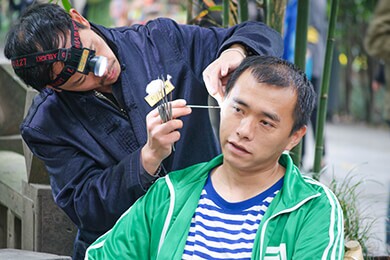 Ear-cleaning with a skinny metal prong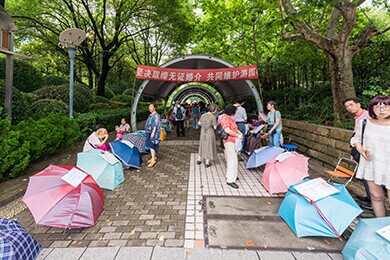 Match-making part of the park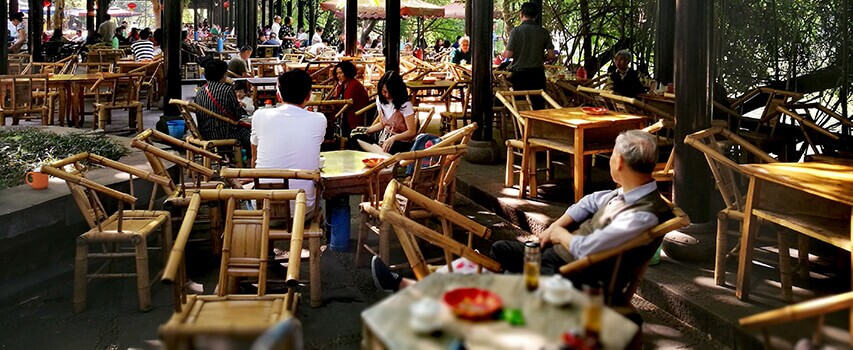 Heming tea house inside People's Park
17:30-18:30
Transfer Back to Your Hotel
The tour finish in People's Park, our driver will send you back to hotel or drop you off at place you required. Your guide will recommend some place to eat and walk around for the night.
You can continue to shop and eat in Jinli Street (your guide will be more than happy to recommend the best shops and restaurants to you) or of course, to go back to your hotel. Your driver will drop you off at the hotel (or other appointed place).
Recommendations at Night
Shufengyayun Tea House for Sichuan Opera & Tea (night show): Located in the Chengdu Culture Park, the Shufengyayun Tea House has a history of over 100 years. It is an ideal place to experience local arts. The performance consists of various traditional Sichuan exhibitions: face changing, spitting fire, hand shadows, puppet show and acrobatics. Have a cup of tea and enjoy a musical, colorful and magical night. Tickets range from CNY280-CNY380 according to the class of the seats.
Stroll Around Chunxi Pedestrian Street/Taiguli Pedestrian Street: both location in the downtown commercial area and neighboring each other. High-end brand stores and boutiques, malls and department stores, supermarkets, cafes and restaurants make this a fun area to visit.
Price Per Person in US Dollars
* Price per Person in US Dollars 1 Person $ 123 The price may change during some festivals including Spring Festival, Tomb Sweeping Day, Labor Day (1st May), Mid- Autumn Day and National Day (1st-7th October).
* The price is subject to change based on exchange rate.
* An extra fee may be applied if there is a pickup or drop-off earlier than 09:00 or later than 19:00.
Price Inclusion
Private English-speaking guide service fee
Private transfer service with air-conditioned vehichle
All entrance tickets and meals listed above
Service charge and tax
China life tourist accident/casualty insurance
Luggage transfers
Price Exclusion
Airfare/train tickets/hotel/China visa
Any meals not listed above
Tips to the tour guide and driver
Personal expenses such as drinks, shopping and attractions that are not listed in the itinerary
Excess baggage charges and travel insurance
Extra fee may be applied if there is a pickup or drop-off earlier 09:00 or later than 19:00
Tour Code: CDSIC-2
Tour type: One Day Trips  (Private Tour)
from US $129 p/p
Last Minute Booking
For 48-hours last minute booking, please give us a call to check on tour availability.
+86-773-286-5632
For an authentic travel experience, contact one of our travel advisors. Our local experts are always ready to create a hassle-free tour for you.