1-Day Dujiangyan Panda Keeper Program
Keeping a panda as a pet is impossible, but you can get really close to pandas and take care of them for a whole day by joining in this program! You will never in your life get this close to them in other cities.
This program will provide you an opportunity to prepare their food, hand-feed them, and clean their enclosures. You will actually provide useful service by doing a small amount of work. You will also learn more about this cute but endangered species from our guide's explanations and from watching a short panda film.
Note: There is a daily quota of 60 volunteers for the Panda Keeper Program. Book in advance to make sure you can be one of the volunteers.
About This Tours
Duration: 8 hours
Skip the Line
Availability : Depart on every day
Tour Type: Private
Guide Language : English
Easy Cancellation : Up to 14 days before departure: 100% full refund; 7 to 13 days before departure: 90% refund; 3 to 6 days before departure: 50% refund; 2 to 0 days days before departure: no refund
What To Expect
There are 2,200 pandas on the planet and 20 are here.
Feed a panda face-to-face under the guidance of a professional panda keeper.
Clean the pandas' enclosure and prepare their food – bamboo… fairly easy work.
Watch a panda documentary and listen to a panda lecture.
.
Make cakes for pandas, with a bit of imagination.
Tour around the Dujiangyan Panda Base.
Receive a certificate showing you worked for the pandas.
Tour Itinerary
Expand All
The night before your tour: arranging a pickup time
Your guide will call you at about 8 pm on the night before your tour to arrange the exact pick-up time. If you don't answer, your guide will leave you a message at the front desk of your hotel.
We will also send you your guide's phone number about a week before your tour. So don't worry about pickup.
We recommend that you start your tour no later than 7 am.
Your car will be a 7-seater air-conditioned business car. Your guide, fluent in English, knows pandas very well.
7:00-8:30
Transfer from your hotel in Chengdu to Dujiangyan
Your driver and English-speaking guide will pick you up from your hotel lobby at about 7 am and head to the Dujiangyan Panda Base. It takes about 90 minutes' drive.
There are only 2,000+ pandas left in the world, about 400 in zoos and 1,800 in the wild, and most of them in or near Chengdu of Sichuan Province. You will see about 20 pandas at the Dujiangyan Panda Base.

Hotel pick up
Get your volunteer pass, and a working uniform and gloves. A professional panda keeper will tell you the relevant procedures. The panda keeper can speak only simple English, so your guide will be there at all times, to translate for you and to take photos for you to record your special experience.
The pandas will be awake and you will start the Panda Keeper program and learn how to take care of them.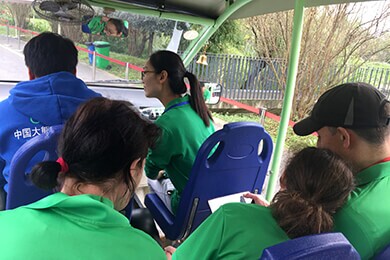 Take a golf-cart into the breeding center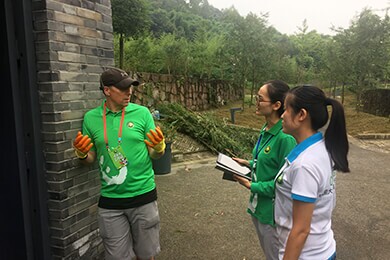 Get information before it starts
9:00–10:00
Clean Panda Enclosures
Giant pandas eat lots of bamboo every day. So panda-keepers need to supply fresh bamboo three times daily. Take the old bamboo out and replace it with fresh bamboo, and clean out the feces. In doing this, you will learn more about the living environment and conditions of pandas.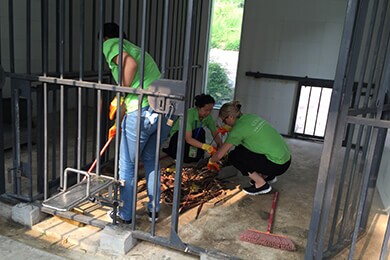 Clean the panda enclosure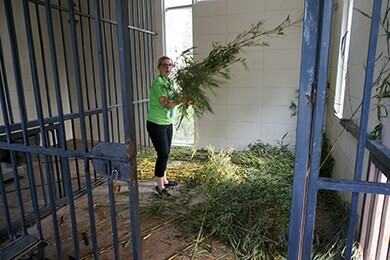 Supply fresh bamboos
10:00–11:00
Take a Break and Visit the Panda Base
Take a break and have a leisurely walk to visit the panda base. You can watch pandas playing, climbing trees and rolling around.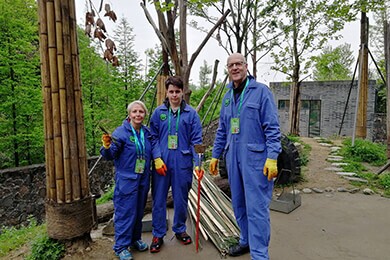 Done! Finish cleaning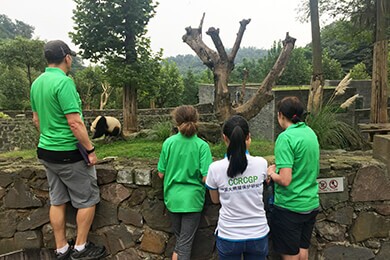 Visit panda base
Besides bamboo, pandas also eat cakes, carrots and apples. You will feed a giant panda under the guidance of a professional panda keeper.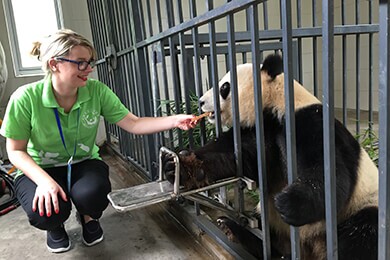 Feeding a panda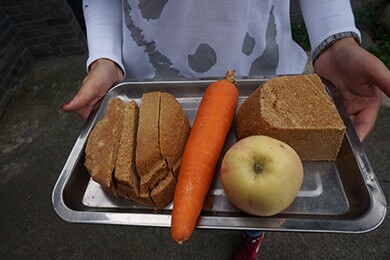 What panda's eat for a meal
12:00–14:00
Have Lunch in the Panda Keepers' Canteen
Lunch will start around 12:00 at a staff restaurant of the Dujiangyan Panda Base. There are two meat dishes and one vegetable dish, and rice. Enjoy your meal with the staff there. You are suggested to prepare some snacks in advance in case you don't like the food there.
After lunch, you can wander round the base on your own. You also could have a break in the resting room, to renew energy for afternoon activities.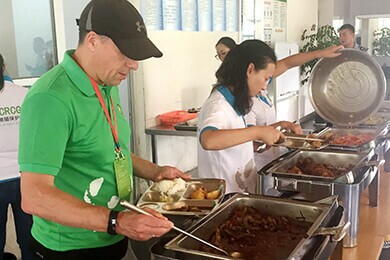 Buffet lunch in panda base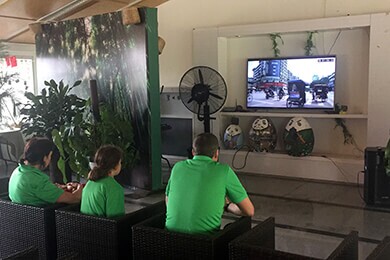 Watching a panda movie after lunch
14:00–14:30
Watch a Panda Movie
The program will recommence in the afternoon at about 14:00. Watch a panda movie, lasting 30 minutes. You will learn how pandas mate, give birth, grow up and train in the wild.
14:30-15:00
Feed the Pandas
Clean the enclosure of the giant pandas. Supply fresh bamboo and take out the old bamboo that you took there in the morning. Feed the pandas with more cakes, apples and carrots.
15:00-15:40
Make Panda Cakes
Remember you fed the pandas with cakes? Now, you will learn about what ingredients are needed for the cakes, and how to make the cakes with the help of the staff. You can make any shape you want. Ingredients will be prepared in advance.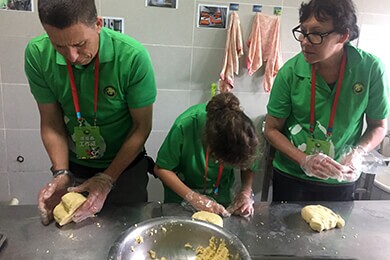 Making a cake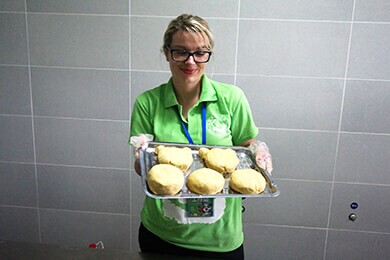 Making any shape you want
15:40
Receive Your Certificate
The Base will award you a panda keeper certificate when you finish all activities. Return your working clothes and your volunteer pass to the staff.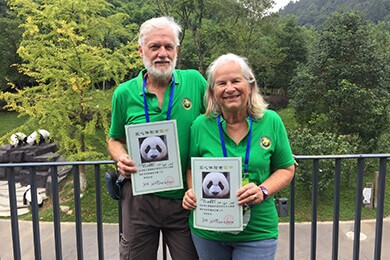 Receive Your Certificate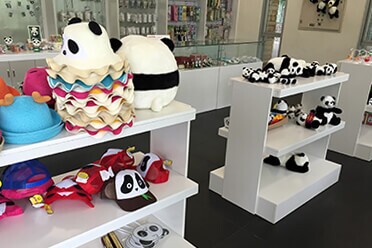 Shop some panda souvenirs
16:00-17:30
Back to Chengdu
The program will end at 16:00. You will be transferred back to your Chengdu hotel at around 17:30.
If you need transferred to the airport or train station after the tour, please contact our travel advisor.
Price Per Person in US Dollars
| 1 Person | 2 Person | 3 Person | 4 Person | 5 Person | 6 Person | 7 Person | 8 Person | 9 Person | 10 Person | 11 Person | 12 Person |
| --- | --- | --- | --- | --- | --- | --- | --- | --- | --- | --- | --- |
| $ 360 | $ 251 | $ 218 | $ 199 | $ 188 | $ 190 | $ 183 | $ 178 | $ 178 | $ 175 | $ 172 | $ 169 |
* Price per Person in US Dollars 1 Person $ 123 The price may change during some festivals including Spring Festival, Tomb Sweeping Day, Labor Day (1st May), Mid- Autumn Day and National Day (1st-7th October).
* The price is subject to change based on exchange rate.
* An extra fee may be applied if there is a pickup or drop-off earlier than 09:00 or later than 19:00.
Price Inclusion
Entrance fees , Panda Volunteer Program fees, Private English-speaking guide, private vehicle transfer, one simple lunch, taxes and all credit card processing fees.
Price Exclusion
CNY1800 for holding a panda for photos, meals and sightseeing not mentioned in this itinerary.
Tour Code: CDALC-34
Tour type: One Day Trips  (Private Tour)
from US $251 p/p
Last Minute Booking
For 48-hours last minute booking, please give us a call to check on tour availability.
+86-773-286-5632
For an authentic travel experience, contact one of our travel advisors. Our local experts are always ready to create a hassle-free tour for you.