Chengdu Food
At just about any Chinese restaurant in the world, you can find Sichuan-style food. It's known for its spice and strong flavor, but Sichuan food has a lot more to offer than just its eponymous pepper.
Chengdu is the capital city of Sichuan strange tasting noodles (also spelled Szechuan) Province in western China. It's an important city and is called "China's Western Hub," as it connects northwest and southwest China, as well as many of the central provinces. Due to it's unique geographical location, long history, and local culture, Chengdu has become the hub of some of the most popular food in China.
Sichuan Spices and Flavors
Chengdunese food is famous for its unique combination of flavors. It's complex geography of mountains, valleys, plains, and plateaus have diversified it's flavors with versatile and unique ingredients. Vegetables and rice come from the fertile basin, while mushrooms, other fungi, and herbs proliferate in the highlands. The most consumed meats are pork and beef, although rabbit is another common meat in Sichuan.
Sichuan food is often pickled, dried, or salted. These measures are taken to preserve foods which are then served with chili oil, thus giving Sichuan food it's characteristic spicy flavor.
The most famous sichuan spice of course, is the Sichuan pepper ("huajiao" or "flower pepper"). This unique peppercorn gives the mouth a numb and spicy/tingling sensation, with a foundation of citrus-like lemony taste. This pepper is not particularly spicy and is not typically used as the primary flavor of a dish, but instead as a base from which the other ingredients can be added to bring out their own flavors.
Other spices that are prevalently-used in Sichuan are garlic, ginger, chili peppers, and star anise. One of the most important spices is broad-bean chili paste (doubanjiang), and is essential in many Sichuan local dishes.
There are many cooking techniques in Sichuan, but the most common are stir frying, steaming, braising, and hot pot.
Exclusive Food Experience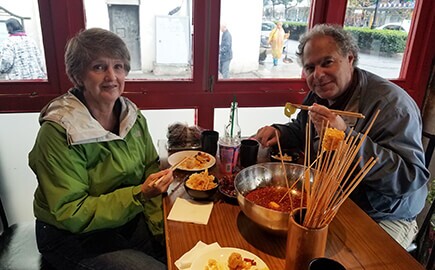 Bring your appetite and nom your way around China, study Sichuan food culture, way of cook, taste of food and experience the charm of this city.
Operates: Daily (9:00-18:00)
Duration: 8-9 hours
Guide Language: English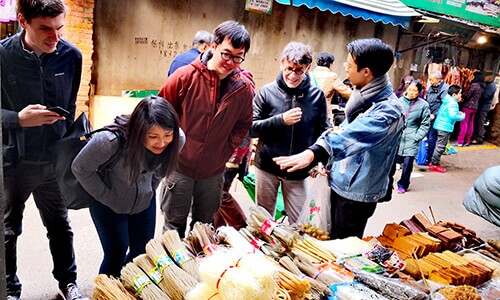 Tours by Chengdu Local Insider
Our guides are Chengdu native, they know what and where is the best place to find the authentic Chengdu food from street eats to time-honored restaurant, even though they have rich experience in how to balance Westerners' eating diet and local flavor.
Our Guides are also co-founders of food tours in Chengdu, they give us suggestions, what to involves, and Implementing schedule base on customers' needs.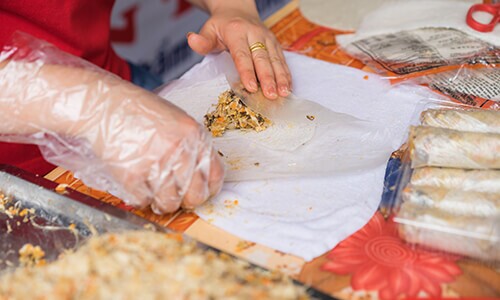 Study the Story Behind the Food – Get to the Local Market
The best way to acknowledge the local life is get to their local farm markets. It is great reflection of livehood. despite its fast growth and big changes, it still has the Chinese culture in its veins.
We will arrange to experience to Chengdu farm markets, learn variety ingredient of fresh vegetable, meat and locally grows,get chance to learn how to make long chao shou and spring rolls with street venders.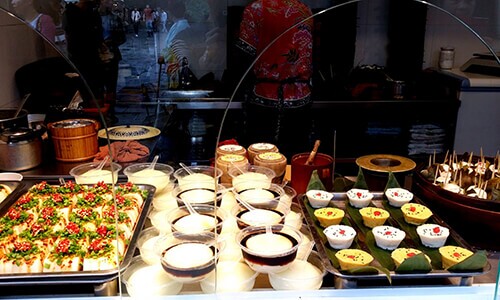 Take a Food Adventure
Chengdu also known as a UNESCO City of Gastronomy. You can find all kinds of hotpot restaurant and Sichuan food restaurant everywhere in the street, but like most China cities, the authentic local food always hidden in small alleys and streets, we are happy to bring you there for a food adventure.
Don't worry if It is not your type of food, tell your guide what you like and dislike, she/ he have many options for a good restaurants.
What Foods Not to Miss?
With so much to choose from, it's difficult to pick the best when you visit Chengdu. Read on for a breakdown of the most unique and delicious snacks that the Hub of Western China has to offer.
Chengdu Noodles
Sichuan's widely-varied geography has resulted in a wide array of cuisines, and noodles are no exception to that rule. Called "mian" (me-an) in Chinese, Chengdu is known for many different types of noodles.
Almost every noodle dish in China is highly customizable- the diner can order it with or without: spicy peppers/pepper flakes, bean sprouts, pickled vegetables, chopped green onions, chopped garlic, salt, sugar, pepper, and more. Both the least and most adventurous eaters can find something they like in Chengdu noodles.
Dan Dan Mian (Dan Dan Noodles)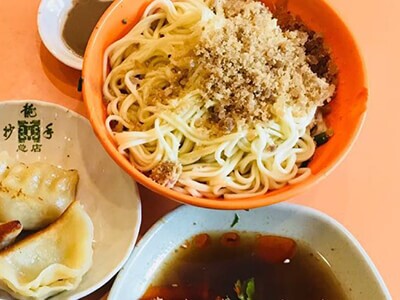 Looking for the qintessential Sichuan dish? Look no further. Dan Dan noodles are a staple- and with good reason. These flour noodles are served with vegetables and fried pork and pork gravy, making for a balanced, flavorsome meal. They have a savory, smokey, and spicy flavor from liberal application of chili oil. They are frequently served at banquets in Chengdu as well as being widely-available from street vendors.
You can find Dan Dan Mian all over Chengdu. It's served in restaurants, it served by street vendors, and it's made by the locals at home too.
Liang Mian (Cold Noodles)
Chilis, black pepper, sugar, and vinegar may not sound so great on cold noodles, but it makes for a refreshing, cool snack- almost like a salad. Topped with bean sprouts, fresh coriander leaves, and chopped green onions, liang mian is a great way to beat the summer heat.
Suan La Fen (Hot and Sour Sweet Potato Noodles)
Pickled vegetables (usually asian raddish or cabbage), fresh coriander, and peanuts add flavor to Suan La Fen. These translucent noodles are made from sweet potato, rather than the more common rice or flour. They are served in steaming broth with a flavor combo that balances salty, spicy, and savory, and will keep you warm on cold days.
Feichang Fen (Pig Intestine Noodles)
These elastic noodles are made from sweet potato flour. However, this is no dish for the squeamish, the main ingredient in this dish is pig intestine, which provides the flavoring for the broth that the noodles are served in. Like many of the noodle dishes throughout China, this can be made to order, with or without: bean sprouts, chopped onions, spicy peppers, and of course an extra helping of innards. Adventurous epicureans can also try heart, lung, and liver variants of this dish.
Long Chao Shou (Chengdu Wontons)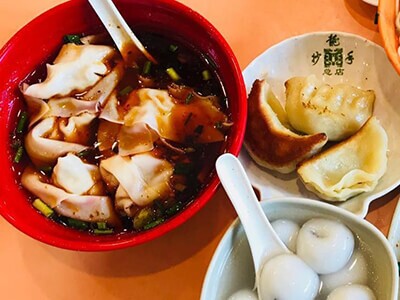 Long Chao Shuo are a local Chengdunese name for wontons. These wontons are made by stuffing thin, tender flour paper skins stuffed with a meat stuffing- usually made from pork or beef. The wontons are served in a soup with a sauce made from pork, beef, duck, and chicken, which is simmered until creamy. This simple dish contains only a few ingredients and makes for a refreshing, light snack between meals.
Zhong Jiaozi (Zhong Dumplings)
Zhong dumplings are named after their inventor, Zhong Shaobai, whose dumplings became the most famous in Chengdu toward the end of the Qing dynasty. Dumplings are eaten all over China, but these are unique because their ingredients contain no vegetables, only pork, giving them an especially savory taste.
There are 2 types of Zhong dumplings: soup dumplings, and red oil dumplings.
The soup dumplings are milder, served in broth. They have a lighter, more refreshing flavor, and are easy on the palate and digestive system.
The red oil dumplings focus on balancing a variety of strong flavors- salty, spicy, and sweet. The dumplings naturally savory/salty flavor is complemented by the sauce they are served with. They are served in a sauce composed of chili oil, garlic, soy sauce and sugar, leading to a balanced melange of powerful flavors.
Fu Qi Fei Pian (Husband and Wife Lung Pieces)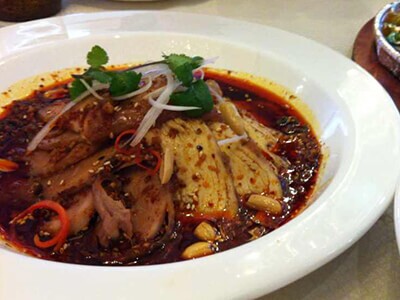 Fu Qi Fei Pian may have an off-putting name[in English], but its actually made from other sliced beef organs served in a chili oil sauce with various garnishes. This dish is served cold or at room temperature, with the signature Sichuan spicy/numbing flavor.
Usually, tongue, heart, and stomach make up the organ ingredients, rather than lung.
The unusal name of this dish comes from a couple who sold it in the 1930s. They experimented with different ingredients so their dishes' flavors stood out. After a wealthy merchant liked their food so much he bought the husband and wife a golden plaque that read "Fuqi Feipian," and the name has stuck ever since.
Lai Tang-yuan (Glutinous Rice Balls)
Legend has it that in 1894, a young man named Lai Yuanxin came to Chengdu to apprentice as a cook. He soon fell out with his boss and wound up on the street. With borrowed money he got some simple cooking equipment and started vending rice dumplings on the street.
Pulling himself up by the bootstraps, his success was enough that he could open a restaurant in central Chengdu some years later.
Now Lai's balls are a traditional snack all over China, and are frequently eaten to celebrate new year. They make for great snacks to graze on during the holidays between heavy meals, with a sweet and savory flavor that comes from sugar and sesame seeds.
Where to Find These Yummy Treats?
Zhang Liangfen (洞子口张老二凉粉)
For noodles of all kinds, particularly liang mian (cold noodles), head to Zhang Liang Fen.
Location: Zhang Liang Fen, 39 Wenshuyuan Street 四川省成都市青羊区草市街文殊院街39号
Head to Wenshu Monastery Metro Station (文殊院). Head east on Wenwu Road and then take your first left (north). Keep going for about 2 blocks, and you will find yourself surrounded by restaurants, Zhang Liangfen will be on your left, across from the park.
Lai Tang Yuan (Mr. Lai's Rice Balls) and Fuqi Feipian Snack Center
This 100+ year old restaurant is a Chengdu cornerstone. It's been here since Mr. Lai started selling his rice balls in 1894.
You can also find the Fuqi Feipian (Husband and Wife Lung Pieces) and plenty of other Chengdunese local dishes.
Location: 27 Zongfu Road, Jinjiang District 锦江区总府路27号
Located right on Zhongfu Road, next to the Crowne Plaza at Chengdu City Center, you can take buses # 4, 8, or 98 there. You can also take the metro to Tianfu Square Station (lines 1 and 2). Walk east on Renmin East road until it becomes Zongfu Road with a slight right. The Lai Tang Yuan is right after the slight turn.
Zongfu Road and the City Center
Walking along Zongfu road and exploring its side-alleys will unearth a wealth of good places to eat. The area is pretty easy to find on a map, it's the area east and southeast of Wenshu Yuan (文殊院) andTianfu Square Metro Station (天府广场).
Don't Forget to Explore!
The truth is, Chengdu is full of great food. You will find it all over the city if you put in the leg-work. The best way to find something good is always the same: get out there and explore.
CONTACT US
Send us a message and get response within one working day! Your personal information will be totally confidential.