Beijing Weather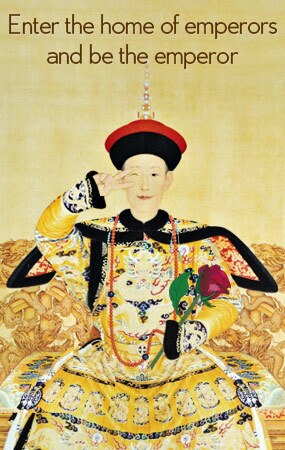 Beijing is located in a warm, temperate zone, enjoying a semi-humid monsoon, continental climate. It has four distinct seasons: dry springs, hot and rainy summers, cool autumns, and chilly and dry winters. The wind has significant seasonal variation, with prevailing northwest winds in winter and prevailing southeast winds in summer.

Best Visiting Time
The best months to visit Beijing are May, September and October, when the weather is comfortable and the views pleasant. During the period of the summer holidays (from July to August), which is regarded as the tourist peak season, it is usually over-crowded.
Annual Temperatures in Beijing
Beijing has relatively short spring and autumn. The annual average temperature in Beijing is 11.7℃. The coldest weather falls in January, with temperatures ranging from -22.8 to 10.7℃. The hottest weather falls in July, with temperatures ranging from 16.1 to 39.6℃. Annual average precipitation is 644mm, and most of the rain falls in summer.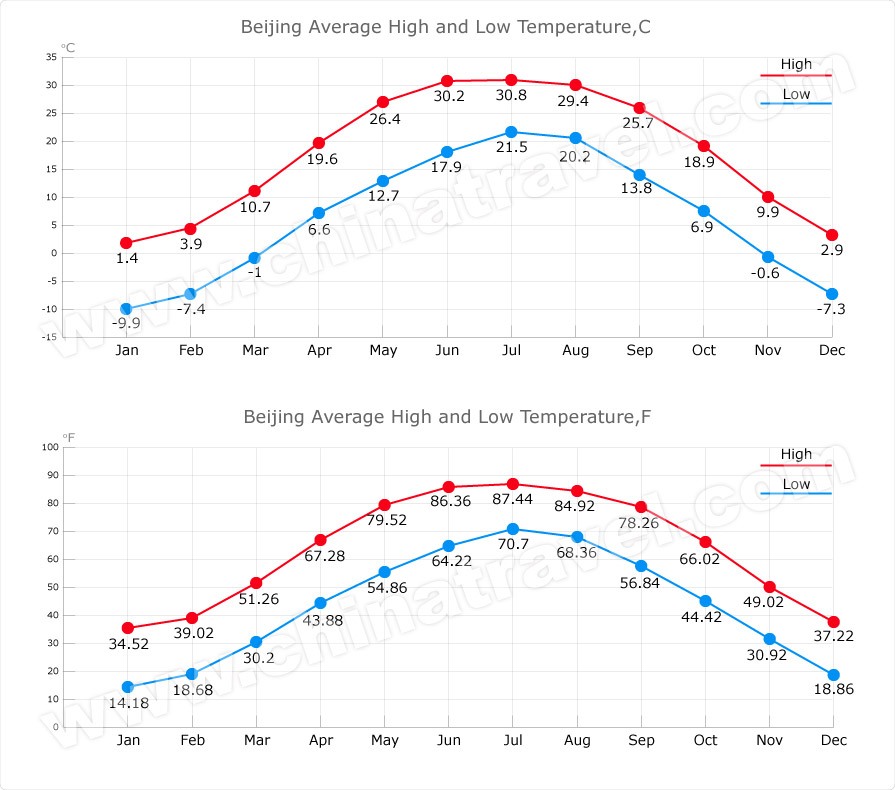 Beijing in Spring (April to May)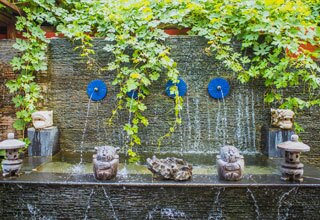 Spring in Beijing is quite short, mainly from April to May, with a sharp rise in temperatures and a large temperature difference between day and night. The weather is relatively comfortable, suitable for sightseeing, spring outings and outdoor activities. The average temperature is 13.1℃ in April and 19.9℃ in May. The temperature is high during daytime and will fall at night.
Spring in Beijing is dry and windy, sometimes combined with floating dust and sand storms, so it's good to check the weather before you start on your spring outing in Beijing.
Clothing Tip: In spring, light jackets, T-shirts and jeans are enough. As it's windy in spring, tourists had better bring hats and glasses with them.
Recommended Sights & Tour Routes in Spring
Flowers are definitely the theme of touring Beijing in spring, so here are some recommended sights for you: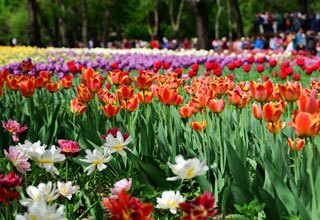 1. Jingshan Park is the first place you should not miss when visiting Beijing in spring. There is a flower display each year with over 500 varieties of peony (the peony is the national flower of China). Besides, a panoramic view of the Forbidden City from the highest point of Jingshan is even more eye-catching than views from inside.
2. Beijing Botanical Garden is the largest botanical garden in northern China, with more than 10,000 different kinds of flowers and plants, among which the most well-known is peach blossom.
3. The Temple of Heaven is the largest heaven-worshipping building in the world, but few people know there is an apricot grove in the temple complex. Some 150 apricot trees were planted in the Qing dynasty (1636-1912) and attract loads of visitors when blooming in spring.
Recommended 2-Day Tour Route: Day 1: Temple of Heaven → the Forbidden City → Jingshan Park; day 2: Beijing Botanical Garden
Beijing in Summer (June to August)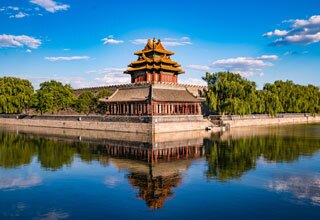 Summer in Beijing mainly lasts from June to August. It is hot with heavy rainfalls. Temperatures range from 17.9 to 30.2℃ in June, from 21.5 to 30.8℃ in July and from 20.2 to 29.4℃ in August. The annual highest temperature falls in July, which has the average temperature of 25.8℃. The high temperatures are lasting, and there's small temperature difference between day and night. The precipitation in summer accounts for 70% of the whole year, mainly in the form of the heavy rainfalls.
Clothing Tips: As it's very hot and sunny in summer, T-shirts and shorts are necessary. To avoid the strong sunshine, tourists had better bring sunglasses, sun screen and a parasol or hat.
Recommended Sights & Tour Routes in Summer
Summer has always been the peak season for tourism in China, especially in Beijing, so let's pick some relatively less crowded sights: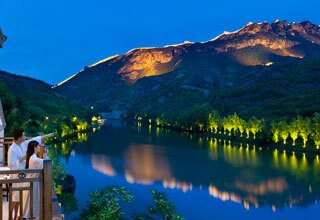 1. Simatai Great Wall is the only section open for night tours on the Great Wall. The lit-up wall and the ancient town at the foot of the wall, make for stunning night views.
2. The Summer Palace was once a summer retreat for Chinese royalty but it now also serves as a cool garden for ordinary people to escape the summer heat. Boating on its Kunming Lake is a pleasant experience.
3. Riding a rickshaw or a bicycle to explore the Beijing Hutongs is a great way to get yourself inside local neighborhoods.
Recommended 2-Day Tour Route: Summer Palace → Hutongs around Shichahai Scenic Resort → Simatai Great Wall (stay overnight at Gubei Water Town at the foot of Simatai)
If you want to stay overnight at Gubei Water Town at the Simatai section of the Great Wall and admire the marvelous lit-up views, our Experience Night Tour on the Great Wall will not let you down.
Beijing in Autumn (September to October)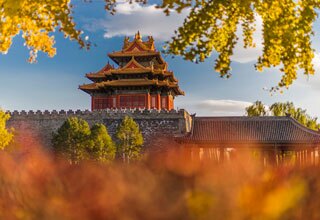 Autumn in Beijing is very short, mainly from September to October, with very cool and comfortable weather conditions and sufficient sunshine. Temperatures range from 13.8 to 25.7℃ in September and from 6.9 to 18.9℃ in October.
Autumn is one of the best seasons for tourists to visit Beijing. In autumn, especially late October, the maple leaves of the Fragrance Hill in Beijing all turn brilliant red, presenting a red hill, which is the most charming autumn scenery in Beijing.
Clothing Tips: As it's cool in autumn in Beijing, tourists had better bring long-sleeved coats and light sweaters.
Recommended Sights & Tour Routes in Autumn
Autumn is considered to be the most beautiful and enjoyable season in Beijing. Aside from the above-mentioned Fragrance Hill, there are many other wonderful sights to visit: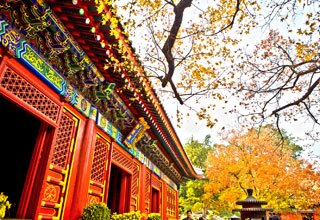 1. The Temple of Heaven is the largest altar complex in China. Around its North Gate there's a ginkgo forest, displaying fall foliage in November.
2. Mutianyu Great Wall is a fully-restored and the most child-friendly section of the Great Wall. Climbing up this section in autumn, you can see more than 280,000 colorful trees in red, gold and green, covering the whole area, like a fairytale world.
3. Houhai (Back Lakes) Bar Street is an ideal place for you to visit if you want to enjoy the great night life in Beijing. Besides, boating on Houhai Lake is also a nice experience.
Recommended 2-Day Tour Route: Day 1: Fragrance Hill → Houhai Bar Street; day 2: Mutianyu Great Wall → Temple of Heaven
Please feel free to Contact Us if you need travel ideas for visiting Beijing in autumn.
Beijing in Winter (November to March)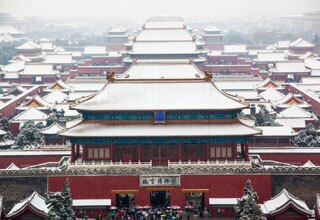 Winter in Beijing lasts from November to March, and it is long, dry and chilly. However, it has abundant sunshine, in average over 6 hours every day. The average temperatures in winter range from -9.9 to 10.7℃, and the coldest month falls in January.
Clothing Tips: As it's very chilly in winter, tourists should bring very warm clothes, such as down jackets, cotton-padded jackets, thermal underwear, cotton-padded, anti-skid shoes, and gloves.
Recommended Sights & Tour Routes in Winter
Winter belongs to the slack season for tourism but it is the best season to experience the most authentic old Beijing. Follow the list below and appreciate a strong smack of livelihood and some magnificent landscapes.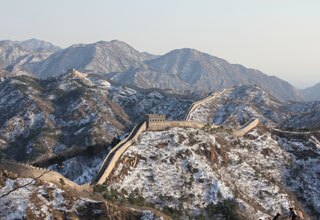 1. You can immerse yourself in the celebrations of Chinese New Year: the Lama Temple – temple fairs; Hutongs – festive folk activities.
2. The Forbidden City was the home of the last 24 Chinese emperors during the Ming and Qing dynasties. Visiting this ancient palatial complex in winter, especially after a snowfall, will make you feel the prestige and solemnity of the palace.
3. Climbing up the Badaling Great Wall devoid of mass tourist numbers in winter, you can find a truly majestic Great Wall, winding along the unending ranges of snow-clad mountains.
4. Recommended ski resorts: Nanshan Ski Village, Huaibei International Ski Resort, Yuyang International Ski Resort, Jundushan Ski Resort
Recommended 3-Day Tour Route: Day 1: the Forbidden City → Jingshan Park → Hutongs around Shichahai Scenic Resort (skating at Shichahai rink);  day 2: the Lama Temple → Badaling Great Wall;  day 3: Nanshan Ski Village
China Travel has professional travel advisors who plan tour itineraries, depending on your requests and budget. Experienced drivers, as well as English-speaking tour guides are available, who can tell you all the local customs, gossip and lore during your tour. So why not tailor-make your private winter tour with us?
Try to Avoid Peak Traveling Periods
The peak traveling periods in China include some traditional Chinese festivals, including New Year's Day (January 1st to 3rd), Spring Festival (late January or early February), May Day (May 1st to 3rd) and Chinese National Day holidays (October 1st to 7th), as well as summer holidays from July to August every year.
Recommended Beijing Tours:
For an authentic travel experience, contact one of our travel advisors. Our local experts are always ready to create a hassle-free tour for you.